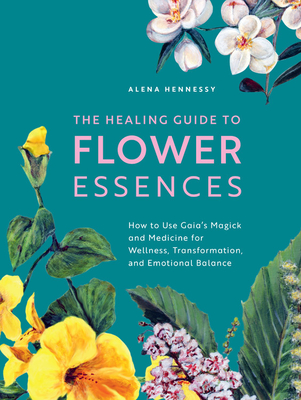 The Healing Guide to Flower Essences
How to Use Gaia's Magick and Medicine for Wellness, Transformation and Emotional Balance
Paperback

* Individual store prices may vary.
Description
The Healing Guide to Flower Essences shows you how to connect with the magic and frequency of 100 flower essences.

The power of Nature to heal has been accepted for many millennia. Flowers inspire us with their beauty, beguile us with their fragrance, and can have medicinal properties in their oils and plant matter. However, the healing properties of flowers go even deeper. Each flower holds a unique energetic fingerprint or essence that can be used for healing, wellness, and self-discovery. 

Organized by categories such as transformation, inspiration, boundaries, and self-esteem, you will be able to easily find the right remedy for your wellness and self-discovery. For example, you can use Larch for overcoming doubt and insecurity, Gentian for perseverance and optimism after a setback or Cherry Plum for surrender and trust in one's soul path.You'll also learn about the history of flower essences and the original 38 Bach flower remedies. Learn how to connect more deeply with the properties and messages of the flowers by making your own flower essence remedies. Written by noted artist, Alena Hennessy, The Healing Guide to Flower Essences is also lovingly illustrated with original botanical art and illustration.
Fair Winds Press, 9781592339389, 208pp.
Publication Date: May 5, 2020
About the Author
Alena Hennessy is a flower essence practitioner, energy healer, Reiki Master, and noted artist. Her work has been featured in numerous magazines and publications, including Spirituality & Health,Natural Health, Redbook,The Washington Post, and Good Morning America.
She is the author of the Mysteries of Love Oracle Deck, Cultivating Your Creative Life, The Painting Workbook, and Intuitive Painting Workshop; a beloved teacher of the art-making process, both online and at select retreats; and a sacred space-holder for women's creative expression. Her paintings combine spiritual inspiration and heartfelt expression with botanical detail. She has exhibited across major cities in the US, along with several museum shows.
or
Not Currently Available for Direct Purchase