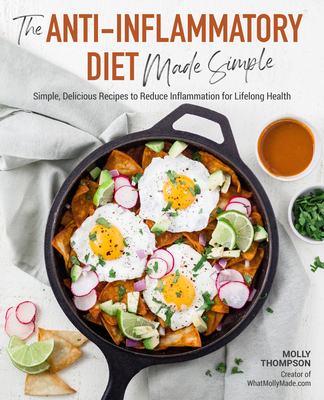 The Anti-Inflammatory Diet Made Simple
Delicious Recipes to Reduce Inflammation for Lifelong Health
Paperback

* Individual store prices may vary.
Description
Increase your overall wellness by decreasing inflammation in your body with over 100 delicious recipes featuring anti-inflammatory foods.
You've probably heard the term "inflammation" before, but you may not understand how it affects the way you feel every day. By reducing inflammation, your body can function at its full potential and
reduce the symptoms of inflammation-caused issues
like
digestive problems
,
hormone imbalances
,
autoimmune diseases
, and
mood disorders
.
The Anti-Inflammatory Diet Made Simple
 makes following an anti-inflammatory diet easy and delicious by
introducing the staples of the diet
and
explaining its benefits
. With recipes featuring inflammation-fighting leafy greens, fermented foods, and healthy fats high in Omega-3, you will
discover key ingredients that decrease chronic inflammation
in your body and improve how you feel every day.
Creator of the popular blog What Molly Made, Molly Thompson, brings relief to your plate with delicious recipes like:
Sweet Potato Waffle Breakfast Sandwich
Mediterranean Quinoa Bowls with Roasted Red Pepper Sauce
Sausage and Sage Pumpkin Pasta Bake
Turkey-Sage Swedish Meatballs with Creamy Spinach Gravy
Roasted Carrot and Lentil Salad with Tahini Dressing
Very Berry Ginger Smoothie
And, Maple Stewed Peaches with Coconut Whipped Cream
Boost your lifelong health and diminish everyday symptoms with
The Anti-Inflammatory Diet Made Simple.
Praise For The Anti-Inflammatory Diet Made Simple: Delicious Recipes to Reduce Inflammation for Lifelong Health…
s wonderful the recipes are, the hope and encouragement this cookbook gives my friends and family members is incredible! They can feel back in control of their health and live life again instead of just living through it.—Carrian Cheney, founder of Oh Sweet Basil and author of Raised in the Kitchen

When you sit down with a book and mark dozens of recipes that you'd like to make today, you know it's a keeper. This book is full of whole food recipes that my entire family will eat (with 5 kids, that's a big statement). As someone who is actively working on reducing inflammation in their own body, this book has so much to offer from a healing and culinary perspective.—Melissa Griffiths, founder of Bless This Mess and author of Sourdough Made Easy

Making the decision to eat gluten- and dairy-free can feel overwhelming. This book, which is filled with simple and delicious recipes, makes the process easy. It's full of approachable meals that are created to energize and support your healing.—Dr. Jolene Brighten, author of Beyond the Pill

Molly has a way of creating amazing recipes—everything from breakfast, dinner to desserts and beyond! Her food is creative, delicious, and won't leave you feeling deprived. <I>The Anti-Inflammatory Diet Made Simple<$> is packed with recipes that will for sure become family favorites.—Jessica DeMay, creator of Real Food with Jessica and author of Clean Paleo Comfort Food Cookbook

Molly Thompson's new cookbook shows us that following an anti-inflammatory diet doesn't have to be complicated and can definitely be delicious. With inventive recipes using vibrant, flavorful ingredients, many will become staples in your household!—Maryea Flaherty, creator of Happy Healthy Mama and author of Anti-Inflammatory Drinks for Health

Whether one is trying to reduce inflammation or simply seek healthier alternatives, this book contains key components for pursuing a healthier lifestyle. I highly recommend this book for anyone who enjoys fresh, whole foods that have the power to heal to help us feel our best!—Gina Fontana, certified health coach, author, and food blogger at Healthy Little Vittles

This book is such a gem for those who are sensitive to dairy or gluten and looking to feel their best without being deprived. It's full of delicious recipes that are heavy on healthful vegetables, grains, and fats without feeling too restrictive—not to mention the drool-worthy photos!—Kaleigh McMordie, M.C.N., R.D.N., L.D., writer at Lively Table
Fair Winds Press, 9781592339471, 176pp.
Publication Date: July 27, 2021
About the Author
Molly Thompson is the founder of the popular website What Molly Made (whatmollymade.com), where she focuses on easy, healthy recipes that use natural ingredients, often fitting into special diets like gluten free, paleo, or anti-inflammatory. Molly also shares her own personal story about living with PCOS on her blog, and how she uses an anti-inflammatory diet to reverse symptoms naturally. Her site also specializes in recipe development, professional food photography, and video production.