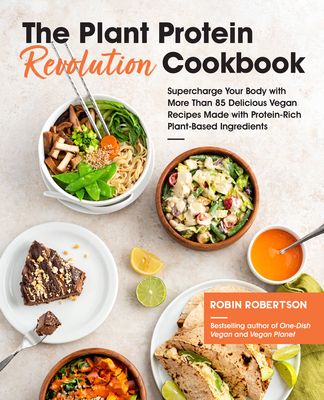 The Plant Protein Revolution Cookbook
Supercharge Your Body with More Than 85 Delicious Vegan Recipes Made with Protein-Rich Plant-Based Ingredients
Paperback

* Individual store prices may vary.
Description
In this sumptuous and authoritative cookbook full of delectable protein-packed recipes, best-selling vegan author Robin Robertson shatters the stubborn myth that it's hard to get enough protein on a plant-based diet.

Robin serves up more than 85 fantastic recipes that deliver ample amounts of entirely plant-based protein, along with a host of other nutrients and a whole lot of big, bold, substantial flavors that anyone, vegan or not, can enjoy.

From snacks and appetizers like Roasted Smoky Chickpeas, in which tamari and chickpeas are the main protein sources, and Baked Tofu with Peanut Sauce, where peanuts and tofu deliver a big protein punch, through delicious soups, stews, salads, and sides, and on to dozens of robust main courses like Jambalaya Red Beans and Rice, Indonesian Noodles with Tempeh, and White Bean Cassoulet, The Plant Protein Revolution Cookbook packs loads of tasty nutrients onto every page. Chapters on plant-protein-rich breakfasts, sandwiches, and sweets and treats make this a book you can use all day, any day.

Whether you are a vegan wondering where your protein will come from or an omnivore who wants to eat meatless on occasion but needs to know you're getting plenty of protein, this enticing book deliciously delivers all the recipes you need.
Praise For The Plant Protein Revolution Cookbook: Supercharge Your Body with More Than 85 Delicious Vegan Recipes Made with Protein-Rich Plant-Based Ingredients…
"The fact that some of the most beneficial plant-based foods also happen to be those that are highest in protein makes Robin Robertson's The Plant Protein Revolution Cookbook a useful resource for those looking to improve their health with a plant-based diet."—Michael Greger, M.D., FACLM, author of How Not to Die and How Not to Diet

"As we mature, our protein needs increase. And, depending on our lifestyles and genes, some of us have higher protein needs than others do. How can you be certain you're getting enough of the highest quality protein? The answer to that question is in your hands, namely, Robin Robertson's wonderful The Plant Protein Revolution Cookbook. Follow its advice and two things will happen: You'll love your meals. And your body will thank you for the rest of your life."—John Robbins, President and Co-Founder, Food Revolution Network, and author of Diet for a New America

"Robin Robertson is the expert when it comes to creating recipes that are delicious, healthful, and easy to prepare. This wonderful protein-packing volume proves that plant-based eating is the most satisfying way to power your day."—Neal D. Barnard, MD, FACC, President, Physicians Committee for Responsible Medicine

"Think protein is a problem on a plant-based diet? Think again! The Plant Protein Revolution Cookbook makes it easy (and delicious) to get all the protein you need to fuel even an active lifestyle — without relying on fake, processed meat substitutes, and instead choosing healthy whole foods. The first vegan cookbook I ever bought was by Robin Robertson and I've been a fan ever since. This new book by Robin shows why she's one of the best at creating healthy, easy, plant-based recipes that the whole family will love."—Matt Frazier, vegan ultramarathoner and author of No Meat Athlete and The No Meat Athlete Cookbook
Harvard Common Press, 9781592339600, 192pp.
Publication Date: August 11, 2020
About the Author
Robin Robertson is a veteran restaurant chef, cooking teacher, and an acclaimed writer. She pens a regular column for VegNews magazine and has written for Vegetarian Times, Health Naturally, Restaurant Business, National Culinary Review, American Culinary Federation magazine, and Better Nutrition. She has written numerous cookbooks, including the best-selling titles Fresh from the Vegan Slow Cooker, Vegan Planet, Vegan on the Cheap, and Quick-Fix Vegan. Robertson currently writes, promotes her books, and teaches classes on her innovative vegan cuisine from her home in the Shenandoah Valley of Virginia. Her website is robinrobertson.com.
or
Not Currently Available for Direct Purchase