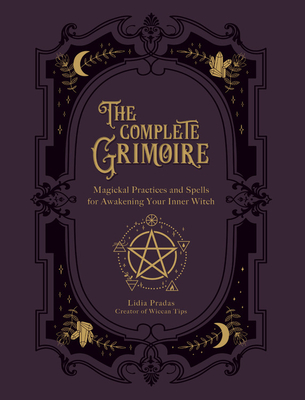 The Complete Grimoire
Magickal Practices and Spells for Awakening Your Inner Witch
Paperback

* Individual store prices may vary.
Description
The Complete Grimoire is a magickal beginner's guide to witchcraft practices and knowledge, written by Lidia Pradas, the creator of the beloved Instagram handle Wiccan Tips.
A grimoire is a witch's handbook filled with all the magickal information, rituals, and practices that a witch uses during their lifetime—a key tool of their craft.
Elegantly designed, featuring a gold foil–embossed cover and beautiful illustrations, and written in Wiccan Tips' trademark concise and practical style, The Complete Grimoire presents the key pillars of witchcraft, including:
Procuring the proper tools and setting up an altar
Harnessing your spells and magick
Sabbats and the Wheel of the Year
How to safely work with deities and spirits

You'll also learn fundamental spells and rituals, such as casting a circle, creating a sigil, and making moon water.
Lidia is a reassuring and trusted guide on your witchcraft journey, addressing key questions and debunking common misconceptions. The Complete Grimoire is an informative, accurate resource the newly initiated and experienced witch alike can use in their daily craft.
Praise For The Complete Grimoire: Magickal Practices and Spells for Awakening Your Inner Witch…
"This concise but well-rounded guide is packed with excellent information and advice for the beginning and more experienced Witch alike. From core energy concepts to correspondences to working with crystals and herbs, Lidia Pradas blends the need-to-know basics with unique insights rooted in years of experience. I particularly love the 'Things I Wish Someone Had Told Me' sections at the end of each chapter. Readers are in good hands with this grimoire!"
—
Lisa Chamberlain, author of Runes for Beginners
Fair Winds Press, 9781592339709, 176pp.
Publication Date: September 1, 2020
About the Author
Lidia Pradas is the wiccan witch behind the Instagram sensation Wiccan Tips and the author of The Complete Grimoire. She comes from a family of witches and teaches and writes about witchcraft and paganism to beginner witches.