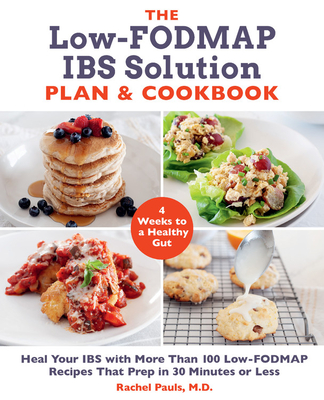 The Low-FODMAP IBS Solution Plan and Cookbook
Heal Your IBS with More Than 100 Low-FODMAP Recipes That Prep in 30 Minutes or Less
Paperback

* Individual store prices may vary.
Description
Reduce IBS symptoms with a 4-week meal plan and simple, delicious recipes!
The Low-FODMAP IBS Solution Plan and Cookbook
 is your guide to successfully navigating the low-FODMAP diet and reducing IBS symptoms, including a 4-week meal plan and
more than 100 low-FODMAP, gluten-free recipes
that can be easily
prepared in less than 30 minutes
.
If you are one of the 45 million Americans suffering from Irritable Bowel Syndrome (IBS), eating food may be the start of a vicious cycle.
The Low-FODMAP IBS Solution Plan and Cookbook
will provide
everything you need to stop this cycle and heal your gut
, using the medically proven low-FODMAP diet.  
Reduce symptoms of IBS and other digestive conditions with an easy-to-understand introduction to the low-FODMAP diet, a 4-week meal plan to guide you through the first phases, and more than 100 delicious low-FODMAP, gluten-free recipes that can be easily prepared in less than 30 minutes. You will receive sound,
results-based advice from internationally recognized physician, surgeon and researcher Dr. Rachel Pauls
, who uses the low-FODMAP diet to successfully treat her own IBS symptoms.
Inside, you'll find guidance and straightforward low-FODMAP recipes that put you back in control, plus numerous
vegan and vegetarian options
. Enjoy mealtime once again with recipes such as:
Lemon Blueberry Mug Muffins
Make-Ahead Breakfast Burritos
Flat-Tummy Chicken Corn Chowder
Summertime Salad with Toasted Pecans
Lemon Chicken with Rotini and Vegetables
Tangy Turkey Sloppy Joes
Peanut Pad Thai
Hummus Pizza with Greek Salad
Banana Chocolate Chip Oat Bars
Chewy Brownie Cookies with Walnuts
Scrumptious Pumpkin Pie Energy Bites
Make this book the start of a healthier and happier lifestyle and a healthier and happier
you!
Praise For The Low-FODMAP IBS Solution Plan and Cookbook: Heal Your IBS with More Than 100 Low-FODMAP Recipes That Prep in 30 Minutes or Less…
The low FODMAP diet is a godsend for the great majority of those with IBS, but understanding it—and finding great low FODMAP food to eat—can be a challenge. Rachel Pauls, M.D., has the answers for you in this book. The diet information is well laid out and accessible, and the recipes tantalize. Get ready for over 100 recipes to keep you satisfied and IBS symptom free.—Dede Wilson, co-founder of FODMAP Everyday and author of The Low-FODMAP Diet Step by Step

This new entry to the FODMAP bookshelf is compact, beautifully designed, and easy to read. Dr. Pauls' collection of tasty and easy recipes for the elimination phase of the diet includes thirteen hard-to-find vegetarian and vegan main dishes, illustrated by many lovely full-color photos.—Patsy Catsos, M.S., R.D.N., L.D., author of The IBS Elimination Diet and Cookbook

Rachel's medical expertise combined with her personal experience with IBS make this book shine. The recipes are simple and flavorful. With all the practical tips and tricks for grocery shopping and meal planning, this cookbook is a must-have resource for patients embarking on the low-FODMAP diet.—Andrea Hardy, R.D., owner of Ignite Nutrition

Rachel Pauls, M.D., has leveraged her experiences as a physician, patient, and entrepreneur to create a?tour de force which will help persons with digestive issues better understand the why, how, and how long of the low-FODMAP diet plan. I will be adding?The Low-FODMAP IBS Solution Plan and Cookbook to my patients' reading list.—William D. Chey, M.D., Nostrant Collegiate Professor of Gastroenterology, University of Michigan
Fair Winds Press, 9781592339716, 176pp.
Publication Date: October 20, 2020
About the Author
Dr. Rachel Pauls is an internationally renowned surgeon and medical researcher, as well as passionate chef and FODMAP blogger. She completed her residency training in Obstetrics and Gynecology at Washington University in St. Louis, and her Fellowship in Female Pelvic Medicine and Reconstructive Surgery at TriHealth Health System in Cincinnati, Ohio.  Dr. Pauls is a widely recognized expert on the low-FODMAP diet, and has published more than one hundred medical journal articles and book chapters.  She currently serves as the Program Director for the Fellowship Program in Female Pelvic Medicine and Reconstructive Surgery, and Director of Research for the Division of Urogynecology at TriHealth. An IBS sufferer, Dr. Pauls follows the low-FODMAP diet to successfully eliminate her own IBS symptoms. To help others suffering from IBS and digestive issues, Dr. Pauls founded Rachel Pauls Food (www.rachelpaulsfood.com), in 2016.  Her company has quickly become one of the world's leading makers of delicious certified low-FODMAP food, and its website offers free education, recipes, as well as the highly regarded, downloadable, FODMAP Happy Gut Guide PDF.