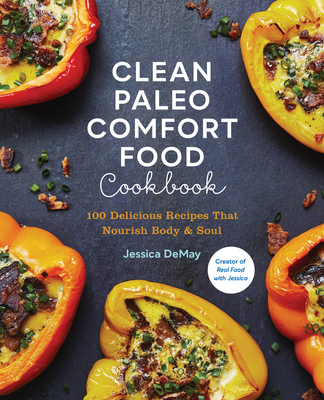 Clean Paleo Comfort Food Cookbook
100 Delicious Recipes That Nourish Body & Soul
Paperback

* Individual store prices may vary.
Description
Clean Paleo Comfort Food Cookbook enables you to have all the dishes you love without the ingredients that sabotage your weight and health. Written by Jessica DeMay, creator of the beloved blog Real Food with Jessica, these recipes will nourish and delight you. Many recipes are also Low-FODMAP and keto compliant! 
Everyone loves comfort food, but comfort food is often thought of as a cheat meal high in calories and low in nutrition. What if you could have
the hearty and tasty dishes you love without the dairy, gluten, grains, and sugar
? What if vegetables and seasonings could be used in creative ways to create the comfort food creaminess, heartiness, and flavor that you love? No diet, no matter how healthy, is sustainable if the only thing you can eat is plain protein with a side of green vegetables. With this cookbook, you can stick to your clean paleo diet
and
 enjoy craveable recipes like: 
Sheet Pan Pancakes
Scotch Eggs
Instant Pot Applesauce
Broccoli and Ham Crustless Quiche
Baked Mac and Cheese
Bourbon Chicken
Chicken Bacon Ranch Meatloaf
Chili Dog Casserole
Bolognese
Taco Casserole
French Onion Soup with Meatballs
Clam Chowder
Butternut Squash Pecan Crumble
Cashew Butter Swirl Brownies
Banoffee Pie
Praise For Clean Paleo Comfort Food Cookbook: 100 Delicious Recipes That Nourish Body & Soul…
"Jessica is a genius at creating paleo versions of the most crave-worthy and comforting meals, snacks, and sweets!  She brings a unique touch to everything from creamy casseroles and soups, breakfast favorites, to indulgent desserts that are bound to become staples in your kitchen!"  
 —Michele Rosen, Author of Paleo Baking at Home and creator of paleorunningmomma.com

"Whether you're a seasoned veteran or brand new to paleo cooking, Jessica's Clean Paleo Comfort Food Cookbook is for you! Her recipes are easy-to-follow and the whole family is sure to love them! We'll be cooking with this cookbook regularly!"  
 —Justin + Erica from The Real Simple Good Life - realsimplegood.com

"You don't have to feel deprived on a Paleo diet. Clean Paleo Comfort Food Cookbook is a one stop shop for exciting, flavorful, and decadent recipes that are bursting with flavor! Everything from savory to sweet-- it's a must have Paleo Kitchen staple."
 —Amy Rains, Author of One-Pot Gluten Free Cooking and creator of Wholesomelicious.com

"Jessica is the master at making comfort food healthy, whether it be casseroles, indulgent desserts or anything in between! I know I can always rely on her for recipes my family will love. Clean Paleo Comfort FoodCookbook is the ultimate cookbook for anyone looking for hearty recipes that nourish and satisfy!"
 —Christina Shoemaker, Author of Clean Paleo One-Pot Meals and creator of thewholecook.com
Fair Winds Press, 9781592339853, 192pp.
Publication Date: February 9, 2021