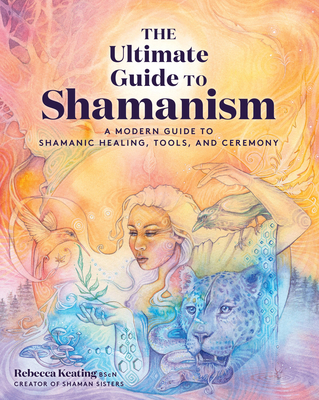 The Ultimate Guide to Shamanism
A Modern Guide to Shamanic Healing, Tools, and Ceremony (The Ultimate Guide to... #11)
Paperback

* Individual store prices may vary.
Description
A modern approach to an ancient tradition, The Ultimate Guide to Shamanism teaches you how to incorporate shamanic practices and ceremonies into your everyday life.
A popular spiritual practice today, shamanic practice spans civilizations, continents, and countries. Indeed, it can be traced as far back as humankind itself. It has existed for as long as
we
have existed. Today's shamanic practitioner is a mystic, a healer, and a keeper of ancient wisdom. They
navigate and balance the seen and unseen energies between the natural world and modern society
.
Along with the
history of shamanism
, learn these
shamanic skills for healing and empowerment:
Calling in the four directions and setting ceremony
Building an altar and setting sacred space
How to work with shamanic tools and power objects
Working with spirit allies, ancestors, and your Higher Self
Shamanic journeying
With
The Ultimate Guide to Shamanism
, you, too, can access the power of these ancient practices.
The Ultimate Guide to…
series offers comprehensive beginner's guides to discovering a range of mind, body, spirit topics, including tarot, divination, crystal grids, numerology, aromatherapy, chakras, and more. Filled with beautiful illustrations and designed to give easy access to the information you're looking for, each of these references provides simple-to-follow expert guidance as you learn and master your practice.
Praise For The Ultimate Guide to Shamanism: A Modern Guide to Shamanic Healing, Tools, and Ceremony (The Ultimate Guide to... #11)…
"Rebecca Keating has produced an introductory guide to shamanism that is both visually captivating and accessible. In clear language she captures the essence of ancient traditions devoted to honoring and interacting with the spiritual energies of life in the natural world. She presents teachings, techniques and rituals for people to begin their own personal shamanic practices. This is a beautiful book for fostering healing, interconnection, and personal empowerment in these challenging modern times."—Marilyn Keffer and Gael Carter, Founders of the Institute of Shamanic Medicine

"The ideal introduction to the non-specialist general reader with an interest in the subject -- making it an especially and unreservedly recommended addition to personal, community, college, and university library Shamanism and Spiritual Self-Help reading lists and collections."—Midwest Book Review
Fair Winds Press, 9781592339969, 192pp.
Publication Date: July 20, 2021
About the Author
Rebecca Keating is the creator of Shaman Sisters®, a global website distinguished for offering high quality crystals, gemstone jewelry, and other sacred tools. She holds a Bachelor of Science in nursing. Rebecca has immersed herself in shamanic studies from numerous traditions, including Celtic, Andean, Toltec, and Incan shamanism, and she is a mesa carrier in the Q'ero tradition. She has trained with teachers from around the world and under Indigenous healers and Shamans in South America. Rebecca is a shamanic practitioner, energy and crystal healer, HeartMath interventions practitioner, ecstatic dance facilitator, sound healing practitioner, and kambo practitioner. Shaman Sisters' crystal boutique is located in Port Credit, Canada, and is also the physical home to The Aura Room, a sacred space where Rebecca offers her private healing practice. The space is a hub for community events, trainings and workshops, shamanic ceremonies, and virtual offerings. Rebecca is an avid supporter of local and international marginalized groups, tribes, and Indigenous initiatives and Indigenous artists. She is passionate about being of service and guiding others to connect to their Inner Source and to realize their gifts and fullest potential. Shaman Sisters is a movement uniting community from all parts of the world. Together we can raise the frequency of the planet. Stay connected @shamansisters.