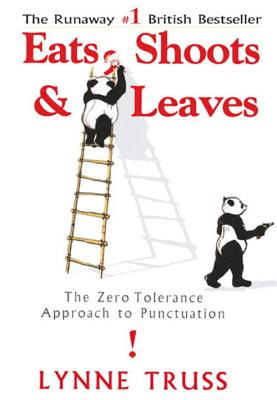 Eats, Shoots & Leaves (Hardcover)
The Zero Tolerance Approach to Punctuation
Avery, 9781592400874, 240pp.
Publication Date: April 12, 2004
Other Editions of This Title:
Digital Audiobook (9/24/2004)
Paperback (4/11/2006)
Hardcover (7/25/2006)
Paperback (10/6/2009)
Hardcover (10/16/2008)
Hardcover (1/1/2003)
* Individual store prices may vary.
Description
We all know the basics of punctuation. Or do we? A look at most neighborhood signage tells a different story. Through sloppy usage and low standards on the internet, in email, and now text messages, we have made proper punctuation an endangered species. In Eats, Shoots & Leaves, former editor Lynne Truss dares to say, in her delightfully urbane, witty, and very English way, that it is time to look at our commas and semicolons and see them as the wonderful and necessary things they are. This is a book for people who love punctuation and get upset when it is mishandled. From the invention of the question mark in the time of Charlemagne to George Orwell shunning the semicolon, this lively history makes a powerful case for the preservation of a system of printing conventions that is much too subtle to be mucked about with.
About the Author
Lynne Truss is a writer and journalist who started out as a literary editor with a blue pencil and then got sidetracked. The author of three novels and numerous radio comedy dramas, she spent six years as the television critic of The Times of London, followed by four (rather peculiar) years as a sports columnist for the same newspaper. She won Columnist of the Year for her work for Women's Journal. Lynne Truss also hosted Cutting a Dash, a popular BBC Radio 4 series about punctuation. She now reviews books for the Sunday Times of London and is a familiar voice on BBC Radio 4. She lives in Brighton, England.
Praise For Eats, Shoots & Leaves: The Zero Tolerance Approach to Punctuation…
"You don't need to be a grammar nerd to enjoy this one… Who knew grammar could be so much fun?" -
Newsweek
"Witty and instructive… Truss is an entertaining, well-read scold in a culture that could use more scolding." -USA Today
"Truss is William Safire crossed with John Cleese's Basil Fawlty." -Entertainment Weekly
"Witty, smart, passionate, it gives long-overdue attention to 'the traffic signals of language.'"--John Rechy, Los Angeles Times Book Review "Best Books of 2004: Nonfiction"
"Truss's scholarship is impressive and never dry." -Edmund Morris, The New York Times
"[Truss is] a reformer with the soul of a stand-up comedian." -Boston Globe
" This book changed my life in small, perfect ways like learning how to make better coffee or fold an omelet. It's the perfect gift of anyone who cares about grammar and a gentle introduction for those who don't care enough." -Boston Sunday Globe
"Lynne Truss makes [punctuation] a joy to contemplate." -Elle Magazine
"A witty look at the amusing foibles of punctuation." -Reader's Digest
"Lynne Truss has done the English-speaking world a huge service." -The Christian Science Monitor
"Witty and playful." -Time Out New York