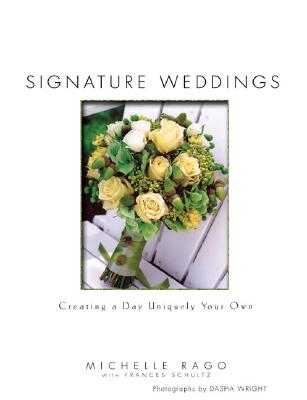 Signature Weddings: Creating a Day Uniquely Your Own (Hardcover)
Creating a Day Uniquely Your Own
Gotham, 9781592402540, 240pp.
Publication Date: December 28, 2006
* Individual store prices may vary.
or
Not Currently Available for Direct Purchase
Description
America's most innovative wedding designer--hailed by Modern Bride as the "wedding design dynamo"--showcases her completely fresh and beautifully photographed ideas for personalizing your special day.
Michelle Rago is a rising star in the world of weddings, and she has made her name by focusing on the biggest trend in weddings today: personalization. Now she makes her creative process available to everyone, revealing the techniques that made Modern Bride name her as one of the industry's top twenty-five trendsetters. With stunning photography illustrating ten real-life weddings from a variety of locations and styles--from country nuptials in Vermont to a tropical ceremony in the Caribbean to the St. Regis Hotel in New York to a country club in St. Louis-- Signature Weddings shows readers how to tap into their inspiration by focusing on and including:
* How Michelle designs a wedding that truly reflects the bride and groom
* The three essential S's: setting, season, and situation
* Core design elements, ranging from a family heirloom to local foliage; and color palettes that inform every design detail, from bouquets and centerpieces to table settings, decor, invitations, food, dress, and cakes
* Sidebars and boxed text throughout that focus on specific concerns, from destination weddings to wedding programs, dealing with the weather, rehearsal dinners, lighting, music, invitations, and more.

Unlike over-the-top wedding guides full of unrealistic concepts, or dated books that try to impose one old-fashioned approach, Signature Weddings lets couples embark on a creative journey that suits any budget or taste--with results to cherish for a lifetime.
Advertisement