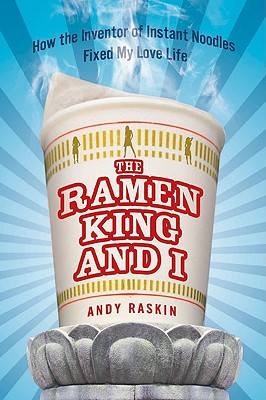 The Ramen King and I
How the Inventor of Instant Noodles Fixed My Love Life
Hardcover

* Individual store prices may vary.
Other Editions of This Title:
Paperback (7/6/2010)
Description
"Mankind is Noodlekind"

For three days in January 2007,the most e-mailed article in The New York Times was "appreciations: Mr. noodle," an editorial noting the passing, at age ninety-six, of Momofuku Ando, the inventor of instant ramen. Ando's existence came as a shock to many, but not to Andy Raskin, who had spent three years trying to meet the noodle pioneer.

The Ramen King and I is Raskin's funny and, at times, painfully honest memoir about confronting the truth of his dating life-with Ando as his spiritual guide. Can instant ramen lead one to a committed relationship? And is sushi the secret to self-acceptance?

A true tale of hunger in its many forms, The Ramen King and I is about becoming slaves to our desires and learning to break free.
Praise For The Ramen King and I: How the Inventor of Instant Noodles Fixed My Love Life…
A "wacky, oddly endearing memoir."
-The Washington Post

"Ramen King serves up enlightenment in a bowl"
-San Francisco Chronicle

"Endearing and compelling [...] therapeutic and enlightening [...] oddly entertaining"
-San Francisco Chronicle Book Review

"Hilarious and often poignant [...] unexpectedly charming."
-San Francisco magazine

"Alternately tongue-in-cheek and sincere, The Ramen King and I proves that, to paraphrase a Japanese proverb, "If man has no ramen in him, he is incapable of understanding truth and beauty."
-FlavorPill

"A hilarious but instructive casserole. ... Readers with hankerings for the zany and life-affirming (not to mention Japanese) will salivate over this book. Serve with Julie Powell's Julie and Julia."
-Library Journal

"Mixing humor and raw honesty, Raskin's introspective journey is inspiring and entertaining."
-Booklist

"Raskin's laugh-out-loud memoir yields surprising insights [...] An engaging portrait of a journey of self-discovery, leading to the liberating knowledge that joy and freedom often come from accepting limitations."
-Kirkus

"Andy Raskin has crafted something much more than a clever and entertaining story. While bringing to life several curiously vivid Japanese subcultures, he sets out on a quest for something deep within himself, and finds it. Great comedies offer us honest-to-goodness meaning, and The Ramen King and I, with emotional depth beneath its quirky humor, certainly ranks among them."
-Arthur Golden

"I ate this book in one sitting. Okay three sittings. What I mean is I loved it. It won me over from the start, and when it wasn't making me hungry it made me think. Apparently I, too, battle against the Fundamental Misunderstanding of Humanity."
--Po Bronson

"To say The Ramen King and I is a memoir about sex and fidelity and instant noodles only hints at the humor and humanity of this wonderful, beautifully crafted book. I couldn't stop laughing, even though it was also sad, in that being-human-is-sometimes-a-sad-proposition kind of way. Andy Raskin has an insider's perspective on male desire and Japanese culture, and a keen eye for the delicate, heartbreaking absurdities of both."
-Ruth Ozeki, author of My Year of Meat

"More raw than sushi...Raskin's journey is bizarre, enlightening, and delicious."
-Pamela Drickerman, author of Lust in Translation
Avery, 9781592404445, 304pp.
Publication Date: May 7, 2009
About the Author
A long-time NPR commentator whose essays have been heard on All Things Considered and This American Life, Andy Raskin has written for The New York Times, Gourmet, Playboy (Japanese edition), and other publications. He lives in San Francisco.
or
Not Currently Available for Direct Purchase