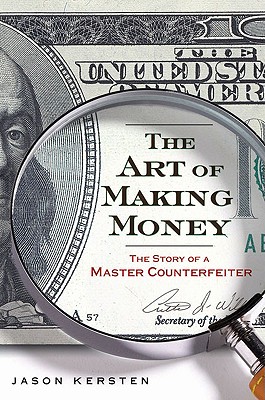 The Art of Making Money
The Story of a Master Counterfeiter
Hardcover

* Individual store prices may vary.
Other Editions of This Title:
Paperback (5/4/2010)
MP3 CD (8/11/2015)
Paperback, Chinese (12/1/2009)
MP3 CD (6/11/2009)
MP3 CD (6/11/2009)
Compact Disc (6/11/2009)
Compact Disc (6/11/2009)
Description
The true story of a brilliant counterfeiter who "made" millions, outwitted the Secret Service, and was finally undone when he went in search of the one thing his forged money couldn't buy him: family.

Art Williams spent his boyhood in a comfortable middle-class existence in 1970s Chicago, but his idyll was shattered when, in short order, his father abandoned the family, his bipolar mother lost her wits, and Williams found himself living in one of Chicago's worst housing projects. He took to crime almost immediately, starting with petty theft before graduating to robbing drug dealers. Eventually a man nicknamed "DaVinci" taught him the centuries-old art of counterfeiting. After a stint in jail, Williams emerged to discover that the Treasury Department had issued the most secure hundred-dollar bill ever created: the 1996 New Note. Williams spent months trying to defeat various security features before arriving at a bill so perfect that even law enforcement had difficulty distinguishing it from the real thing. Williams went on to print millions in counterfeit bills, selling them to criminal organizations and using them to fund cross-country spending sprees. Still unsatisfied, he went off in search of his long-lost father, setting in motion a chain of betrayals that would be his undoing.

In The Art of Making Money, journalist Jason Kersten details how Williams painstakingly defeated the anti-forging features of the New Note, how Williams and his partner-in-crime wife converted fake bills into legitimate tender at shopping malls all over America, and how they stayed one step ahead of the Secret Service until trusting the wrong person brought them all down. A compulsively readable story of how having it all is never enough, The Art of Making Money is a stirring portrait of the rise and inevitable fall of a modern-day criminal mastermind.

An Interview with Jason Kersten, author of THE ART OF MAKING MONEY

Q: What compelled you to write The Art of Making Money?

A: Curiosity about the crime of counterfeiting initially drew me in. Master counterfeiters- criminals who produce superior quality notes and sell them-are extremely rare. Unlike other kinds of career criminals, they are also craftsmen, and they typically learn from another master through apprenticeship. When Art Williams learned to counterfeit from a master at just 16, he was the last link in a chain of counterfeiters that went back generations. I found this so fascinating, this idea of legacy. I wanted to know how Art learned the art of counterfeiting, the dynamics of that student- teacher relationship and how it changed him. Then of course there was his pursuit of a counterfeit of the 1996 New Note, the most secure US bill ever created. It was a quest, and quests always make for great stories.

While it was the world of counterfeiting that originally attracted me to Art's story, what ultimately made a book-length project worthwhile wasn't the crime, but the man. Art's quest to reconnect with his father was far more compelling than his criminal escapades, and it is the conflict that arises between these two goals that gives his story so much dramatic weight.

Q: How did you find Art Williams and his story?

A: Art Williams actually found me. Back in 2004, the Hollywood producer Paul Pompian spent a week in Chicago scouting locations for one of his films. Paul didn't have a car, so one of his friends loaned him a car and driver. That driver turned out to be Art Williams. As the week went by, Art kept hinting to Paul that if he really wanted to make an interesting movie, he should listen to his story. Of course, being a veteran Hollywood man, Paul hears such claims on a daily basis, so he pretty much blew Art off the entire week.

On his last day in Chicago, Paul had a few hours to kill before heading to the airport. By then he had taken a liking to Art. They were both native Chicagoans, both from the streets, and in a few of the details Art revealed about his past Paul saw shades of his own memories growing up in the city. Paul offered to buy Art lunch and, grudgingly, finally listen to his story. Upon hearing that Art had learned to counterfeit at 16, Paul was shocked, and of course there was much more to the story. He thought that Art's life might indeed not only make a good film, but an interesting book. Eventually he contacted my literary agent in the hopes of finding someone to write it.

I really didn't know what to think when my agent told me about Art. I was fascinated, but there was no way I could commit to anything without meeting Art myself. After spending an hour with him on the phone and doing a little research, I though it would at least make an interesting magazine article. The resulting article ran in Rolling Stone in July of 2005, and by then I had learned enough about Art's story to want to write the book.

Q: How much money did Art Williams counterfeit?

A: By Art's own estimate, he counterfeited about ten million dollars worth of US currency over a ten-year period. While that is quite a sum for a lone counterfeiter, the dynamics of the crime make getting rich from it a bit more complicated. Since he sold much of it for 30- cents on the dollar, he only got about third or less of the face value. Overhead, his splurging lifestyle, and the countless bills he burned because he wasn't quite satisfied, reduced his net profit even further.

Q: Have you ever seen one of Art Williams's counterfeit bills?

A: I have, though interestingly this didn't happen until the book was almost finished. The bill, a C- note, was stuffed inside a journal sent to me by someone close to Art. This individual had tucked it in there as a memento years earlier and completely forgotten about it. Seeing it was a strange sensation. If I hadn't spent so much time learning about both real and counterfeit currency, I wouldn't have been able to distinguish it from a genuine bill. Holding it in my hand, I realized how easy it would be to just go spend it. Art always told me that spending his bills never felt like a crime to him, and I could see why: it was too easy to believe the bill was real.

Q: While writing this book, did you have fantasies about becoming a counterfeiter yourself?

A: There came a point when I realized that few people-perhaps nobody other than Art and Natalie-knew as much as I did about how Williams made his bills. At the same time, I also had intimate knowledge of the personal tragedies and sufferings that his life as a counterfeiter had caused him. That kind of knowledge tends to strip away the glamour of the crime.

Even so, there have certainly been times when I've daydreamed about making my own bills. Those fantasies are very short-lived. The likelihood that I would wind up in prison aside, counterfeiting at Art's level requires tremendous skill and patience, and it helps if you enjoy the work, which comes down to printing. Art always said he did it more for the challenge than the money, and I believe him. Sadly, if Art applied the same discipline to his counterfeiting to a legitimate endeavor, he would not only be successful, but free.
Gotham, 9781592404469, 304pp.
Publication Date: June 11, 2009
or
Not Currently Available for Direct Purchase