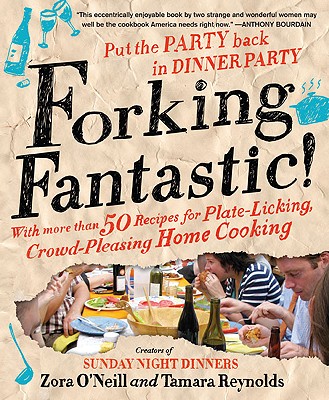 Forking Fantastic! (Paperback)
Put the Party Back in Dinner Party
Gotham, 9781592405053, 256pp.
Publication Date: October 6, 2009
* Individual store prices may vary.
Description
The innovative hosts of a hot-ticket underground supper club invite you to crank up your oven, break out the vino, and save the dinner party from extinction 

Twice a month, two veterans of the New York food world prepare a big meal in a tiny kitchen, serving heaping plates of spectacular cuisine to twenty diverse people (or more). Friends old and new at their Sunday Night Dinners supper club make spirited conversation while feasting on sumptuous cooking. Never obsessed with perfect place settings or fussy details, Zora O'Neill and Tamara Reynolds instead focus on the practical joys of down-to-earth entertaining at home. In Forking Fantastic!, they showcase their very best recipes for making mouthwatering dinners-and for having the time of your life. 

With a healthy dose of irreverent attitude and infectious spirit, here Tamara and Zora take the pressure off and encourage us to reclaim the lost art of cooking delectable meals for the masses. Forking Fantastic! includes:

foolproof, party-tested, delicious menus that are easy to master, each with a "Plan of Attack" for preparing multiple recipes without panic.
practical tips on everything from shopping and stocking a kitchen to making creative vegetarian substitutions and trussing a whole lamb for spit-roasting
hard-won advice from the trenches and an inside look at Tamara and Zora's own cooking disasters
Food-forward but always realistic, Tamara and Zora celebrate seasonal, local ingredients while also extolling cornbread mix and the frozen pea. Quirky, funny and fresh, this book arms intimidated cooks everywhere with the courage, confidence and tools they need to have people over for the sake of food and community, not for the prize of being the best hostess on the block. A manifesto for bringing back a time-honored ritual one mind-blowing feast at a time, 
Forking Fantastic!
 makes dinner parties rock.
About the Author
Zora O'Neill runs a "NYC Survival Cooking" class and has done her time as a line cook, in such places as Prune in the East Village. She has written for eGullet.org and Gastronomica, and also writes travel guides for Lonely Planet, Moon and Rough Guides. She relates her eating adventures abroad at the long-running blog Roving Gastronome (www.rovinggastronome.com).

Tamara Reynolds (left) is co-author of Forking Fantastic!
Book Videos
or
Not Currently Available for Direct Purchase