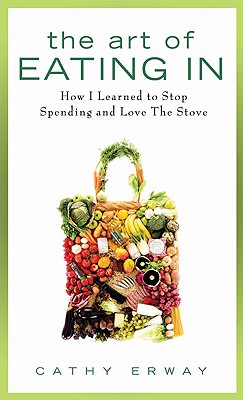 The Art of Eating In (Hardcover)
How I Learned to Stop Spending and Love the Stove
Gotham, 9781592405251, 336pp.
Publication Date: February 18, 2010
Other Editions of This Title:
Paperback (2/1/2011)
* Individual store prices may vary.
Description
In the city where dining is a sport, a gourmand swears off restaurants (even takeout!) for two years, rediscovering the economical, gastronomical joy of home cooking

Gourmand-ista Cathy Erway's timely memoir of quitting restaurants cold turkey speaks to a new era of conscientious eating. An underpaid, twenty-something executive assistant in New York City, she was struggling to make ends meet when she decided to embark on a Walden- esque retreat from the high-priced eateries that drained her wallet. Though she was living in the nation's culinary capital, she decided to swear off all restaurant food. The Art of Eating In chronicles the delectable results of her twenty-four-month experiment, with thirty original recipes included.

What began as a way to save money left Erway with a new appreciation for the simple pleasure of sharing a meal with friends at home, the subtleties of home-cooked flavors, and whether her ingredients were ethically grown. She also explored the anti-restaurant underground of supper clubs and cook-offs, and immersed herself in an array of alternative eating lifestyles from freeganism and dumpster-diving to picking tasty greens on a wild edible tour in Brooklyn's Prospect Park. Culminating in a binge that leaves her with a foodie hangover, The Art of Eating In is a journey to savor.

Watch a Video
About the Author
Cathy Erway is a Brooklyn-based food blogger and freelance writer. Her blog, www.NoteatingoutinNewYork.com is based on a two-year mission to forego restaurant and take-out food in place of home-cooked meals.Cathy began cooking at an early age, learning from her parents, who are both avid cooks and adventurous eaters. She studied creative writing at Emerson College. She has written for The Huffington Post, Time Out NY online, and various small online magazines, and has a feature article in Edible Brooklyn. She has hosted, competed in, or served as a judge at numerous cook-offs in NYC and participated in fundraiser events for Slow Food USA. Cathy has also taught cooking classes at Garden of Eve, a Long Island based farm.
Praise For The Art of Eating In: How I Learned to Stop Spending and Love the Stove…
"Best Cookbooks of 2010" - SeriousEats.com

"Cathy is passionate about sustainable eating and living, and the fact that in writing about her renouncement of eating out in New York , she was also able to paint a vivid portrait of the many innovative movers and shakers in the food scene here, is very telling. There is much more to eating in this, the greatest restaurant city in the world, than restaurants."
-Julie Powell, author of Julie and Julia

The Art of Eating In (hardcover) inspired the Huffington Post's "Week Of Eating In" and earned author Cathy Erway a "Ladies We Love" distinction from Ladies Home Journal

"The Top 10 Eccentric Brooklyn Food Personalities of 2010"
-Eater.com

"Deserves a toast."
-USA Today

"Another good book born from a blog [...] It is, as food critic Robert Sietsema writes in his introduction, a 'Portrait of the Artist as a Young Cook,' an insight into Brooklyn's youth culture. And it looks -- breakups, tiny kitchens and all -- like fun."
-Los Angeles Times

"Those who loved Food, Inc. will delight in Brooklyn blogger Cathy Erway's new book The Art of Eating In-a yearlong account of getting familiar with her stove."
-Daily Candy

"Erway's journey is one of a young artist finding herself, as a cook, as a member of several interesting communities, as a family member, and as a writer."
-Bookslut.com

"Erway is up for just about any food-related adventure [...] And the recipes will have readers racing to their stoves."
-Publishers Weekly

"Most remarkable is not the fact that she made it that long without eating out [...] Rather, it's how appealing and simple the author makes it seem. [...] the author gleefully mixes and sautTs through life, making you want to grab a spoon and help. Like a great dinner party, Erway's memoir is full of fabulous food and engaging conversation."
-Kirkus

"Follow along on Cathy Erway's culinary adventure; not to the latest celebrated restaurant, but to her own kitchen where she finds something even more important than just better food-she finds herself."
-Giulia Melucci, author of I Loved, I Lost, I Made Spaghetti

"Cathy offers practical yet creative advice for living a frugal, healthier and smarter lifestyle with her tales from the kitchen. She also shares entertaining stories about the characters she has encountered through her culinary adventures - I'll never look at the weeds in my yard the same way again."
-Heather Lauer, author of Bacon: A Love Story

"Cathy Erway is my blog Yoda, and spiritual sister in the pursuit of home cooking. For a whole generation of folks raised on take out, here's your essential new guide on HOW and WHY to rock your mealtime, old school."
-Lucinda Scala Quinn, author of Mad Hungry: Feed Men & Boys and Executive Food Director, Martha Stewart Omnimedia

"The ESPN of indie cook-offs is Ms. Erway's blog, Not Eating Out in New York. It provides listings and recaps of local events, and a thoughtful take on the alternative food scene."
-The New York Times

"In total, this book is really one woman's coming of age novel, with recipes, a sort of Portrait of the Artist as a Young Cook."
-Robert Sietsema, The Village Voice
Book Videos
or
Not Currently Available for Direct Purchase