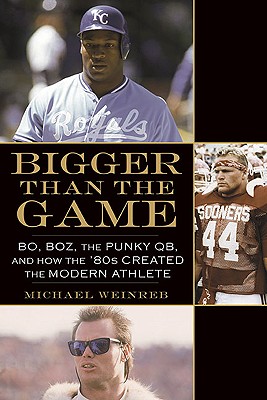 Bigger Than the Game: Bo, Boz, the Punky QB, and How the '80s Created the Modern Athlete (Hardcover)
Bo, Boz, the Punky QB, and How the '80s Created the Modern Athlete
Gotham, 9781592405596, 352pp.
Publication Date: August 5, 2010
* Individual store prices may vary.
or
Not Currently Available for Direct Purchase
Description
A mesmerizing look at the year when American athletics went corporate, villains replaced heroes, and sports stars became superstars.
Greed and excess defined the 1980s, and the sports world was no exception. Shifting from the love of the game to the love of money, athletes made the transition from representing honor and humility to becoming brash and branded. Capturing the stories of headliners who capitalized on this trend, "Bigger Than the Game" charts the rise (and sometimes spectacular fall) of four athletes over the span of one of the most dramatic eras in sports.
Meticulously researched, with stirring, you-are-there reporting, "Bigger Than the Game" assembles a cast that includes Jim McMahon, who took the Chicago Bears to Super Bowl glory despite his penchant for partying and his aversion to following the game plan; Brian Boswoth, the university of Oklahoma linebacker who mugged for the cameras while calling the NCAA a communist organization; Bo Jackson, who pursued promising careers in both pro football and baseball; and Len Bias, poised to ensure the Boston Celtics' dominance but died of a cocaine overdose just one day after the draft. Also packed with portraits of folk heroes such as "Refrigerator" Perry and Michael Jordan, "Bigger Than the Game" offers a riveting ride for every sports fan.
About the Author
Michael Weinreb s previous book "Game of Kings" won the Quill Award and was named one of the best books of the year by Amazon.com. He has been a regular contributor to "The New York Times," "Newsday," and ESPN.com, as his work has been anthologized in "The Best American Sports Writing" collection. He lives in Brooklyn, New York."
Advertisement