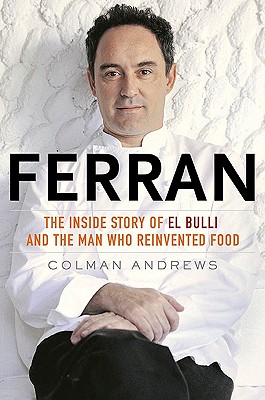 Ferran: The Inside Story of El Bulli and the Man Who Reinvented Food (Hardcover)
The Inside Story of El Bulli and the Man Who Reinvented Food
Gotham, 9781592405725, 320pp.
Publication Date: October 7, 2010
* Individual store prices may vary.
or
Not Currently Available for Direct Purchase
Description
The first-ever biography of Ferran Adria, the chef behind Spain's renowned El Bulli restaurant, by one of the world's foremost food authorities.
More than just the most influential chef of the late-twentieth and early-twenty- first century, Ferran Adria is arguably the greatest culinary revolutionary of our time. Hailed as a genius and a prophet by fellow chefs, worshipped (if often misunderstood) by critics and lay diners alike, Adria is imitated and paid homage to in professional kitchens, and more than a few private ones, all over the world. A reservation at his one and only restaurant, El Bulli, is so coveted that scoring a table is harder than nabbing fifty-yardline tickets to the Super Bowl.
In his lively close-up portrait of Adria, award-winning food writer Colman Andrews traces this groundbreaking chef's rise from resort-hotel dishwasher to culinary deity, and the evolution of El Bulli from a German-owned beach bar into the establishment voted annually by an international jury to be "the world's best restaurant." Taking the reader from Adria's Franco-era childhood near Barcelona through El Bulli's wildly creative "disco-beach" days and into the modern-day creative wonderland of Adria's restaurant kitchen and the workshop- laboratory where his innovations are born and refined, Andrews blends sweeping storytelling with culinary history to explore Adria's extraordinary contributions to the way we eat.
Through original techniques like deconstruction, spherification, and the creation of culinary foams and airs, Adria has profoundly reimagined the basic characteristics of food's forms, while celebrating and intensifying the natural flavors of his raw materials. Yet, argues Andrews, these innovations may not be his most impressive achievements. Instead, Adria's sheer creativity and courageous imagination are his true genius-a genius that transcends the chef's metier and can inspire and enlighten all of us.
Entertaining and intimate, Ferran brings to life the most exciting food movement of our time and illuminates the ways in which Adria has changed our world- forever altering our understanding and appreciation of food and cooking.
Watch a Video
About the Author
Colman Andrews was the cofounder and a former editor in chief of "Saveur," and is the author of four acclaimed cookbooks, including "Catalan Cuisine," which introduced the now-trendy cooking of Catalonia, Ferran Adria's home region, to American food-lovers. The recipient of numerous honors (including six James Beard Foundation awards), he was most recently the restaurant columnist for "Gourmet." He divides his time between New York City and Connecticut."
Advertisement