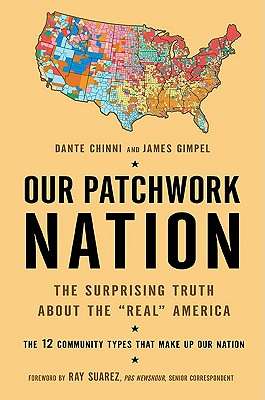 Our Patchwork Nation (Hardcover)
The Surprising Truth About the "Real" America
Gotham, 9781592405732, 336pp.
Publication Date: September 30, 2010
Other Editions of This Title:
Digital Audiobook (9/29/2010)
Paperback (10/4/2011)
Compact Disc (9/30/2010)
MP3 CD (9/30/2010)
* Individual store prices may vary.
Description
A revolutionary new way to understand America's complex cultural and political landscape, with proof that local communities have a major impact on the nation's behavior-in the voting booth and beyond.
In a climate of culture wars and tremendous economic uncertainty, the media have often reduced America to a simplistic schism between red states and blue states. In response to that oversimplification, journalist Dante Chinni teamed up with political geographer James Gimpel to launch the Patchwork Nation project, using on-the-ground reporting and statistical analysis to get past generalizations and probe American communities in depth. The result is "Our Patchwork Nation," a refreshing, sometimes startling, look at how America's diversities often defy conventional wisdom.
Looking at the data, they recognized that the country breaks into twelve distinct types of communities, and old categories like "soccer mom" and "working class" don't matter as much as we think. Instead, by examining Boom Towns, Evangelical Epicenters, Military Bastions, Service Worker Centers, Campus and Careers, Immigration Nation, Minority Central, Tractor Community, Mormon Outposts, Emptying Nests, Industrial Metropolises, and Monied Burbs, the authors demonstrate the subtle distinctions in how Americans vote, invest, shop, and otherwise behave, reflect what they experience on their local streets and in their daily lives. "Our Patchwork Nation" is a brilliant new way to debate and examine the issues that matter most to our communities, and to our nation.
About the Author
Dante Chinni is the correspondent for the Patchwork nation project, a collaboration among "The Christian Science Monitor," "PBS News Hour," and PBS member stations. He lives in Washington, D.C.

James Gimpel, Ph.D., is a professor of government at the University of Maryland, College Park.
Praise For Our Patchwork Nation: The Surprising Truth About the "Real" America…
"[Our Patchwork Nation] is a captivating and at times surprising analysis, both rigorous and accessible, which suggests that while the country as a whole is going through a period of economic restructuring and technological transformation, how each region experiences these changes creates in effect 12 different realities"
-Kirkus Reviews

"Our Patchwork Nation is a compelling, thought-provoking book, and a must-read for anyone trying to make sense of our country's complex political and cultural dynamic. I highly recommend this book."
-Richard Florida, author of Rise of the Creative Class and Director of the Martin Prosperity Institute, University of Toronto

"A great piece of work. I don't see how every political writer in the country with any sense wouldn't buy this book."
-Bill Kovack, co-author of The Elements of Journalism: What Newspeople Should Know and The Public Should Expect

"How many books challenge you to think differently about your town, your country, yourself? Hold tight for this exuberant ride into our Patchwork Nation, where new ideas and fresh insights await around the next bend. This book should come with a traveler's advisory: Leave your assumptions at home."
-Steve Luxenberg, author of Annie's Ghosts: A Journey Into a Family Secret and Washington Post associate editor

"Tired of seeing America painted in only two colors? Our Patchwork Nation is a wonderful book that takes us way beyond red and blue -- while also explaining the social, regional and economic roots of our partisan and ideological color wars. No matter what your politics are, you are guaranteed great fun by Dante Chinni and Jim Gimpel's glorious charts and grafs (as well their brisk, well-written text). And you will be challenged to figure out where you fit into their patchwork, and what their crazy quilt means for the future of our country."
-E. J. Dionne Jr., author of Why Americans Hate Politics and Souled Out.
or
Not Currently Available for Direct Purchase