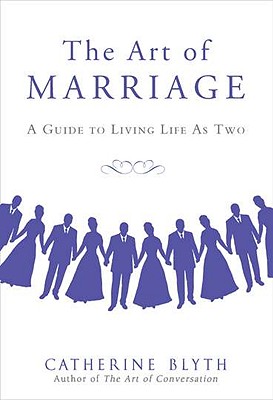 The Art of Marriage (Hardcover)
A Guide to Living Life as Two
Gotham, 9781592406104, 288pp.
Publication Date: December 30, 2010
* Individual store prices may vary.
Description
Read Catherine Blyth's blogs and other content on the Penguin Community.
A witty, thought-provoking celebration of why marriage still matters-and how to make yours work-from the author of "The Art of Conversation."
Today we no longer get married for the reasons our grandparents did: because our families say so, because we must marry to leave home, to have sex, to have financial security. So in this modern age, why marry at all? "The Art of Marriage" seeks to answer this question, in an enchanting guided tour of the three-legged race that is married life.
With anecdotes from history, the latest research, and insights about couples who stayed the course, Blyth offers entertaining advice on how to enjoy a successful marriage and answers vital questions such as can housework improve sex life? Why should husbands argue? And why must wives relax?
In the age of "Bridezillas" and over-the-top destination weddings, it is all too easy to lose sight of the greater meaning of saying "I do." A wedding is not an end-it's not about the race for the ring, or planning a blow-out event-it's the beginning of a journey, full of questions and mystery, and different for each couple. As Catherine Blyth so eloquently puts it, "Each story has at least two sides. Reconciling them is the art of marriage.
About the Author
Catherine Blyth is a writer and editor. Her work has appeared in numerous British publications, including "The Times" and "The Daily Telegraph." Despite her marriage to a mischievous gossip columnist, she still manages to enjoy a thriving social life.
Praise For The Art of Marriage: A Guide to Living Life as Two…
Praise for The Art of Conversation:

"Sleek Catherine Blyth is undoubtedly a delightful dinner party companion"
-The Washington Post

"In this handy guide to civilized banter, Blyth reintroduces the craft of modern discourse"
-Elle

The Art of Conversation "will make your next foray into a bar or business reception much more entertaining [...] it will help both wallflowers and those lost in cyberspace achieve conversational connections"
-Los Angeles Times

"Blyth makes a spirited pitch for old-fashioned talk"
-Salon.com

"Witty, eloquent and insightful, Blyth's books is a delightful encouragement to rediscover conversation as the best communication technology."
-Publishers Weekly

"Mixing up science with psychology and philosophy with literature, she argues the case for banter and badinage. It's free, fun and gets your brain cells firing like the prettiest of firework displays.'"
-Marie Claire

"A witty and thoroughly entertaining guide to the noble art of conversation."
-Katie Hickman, author of The Aviary Gate

"Modern man - and woman - have forgotten how to engage larynx and ears. Catherine Blyth teaches the lost art with wit and charm."
-Harry Mount, author of Carpe Diem: Put a Little Latin in Your Life

"Get off that bloody computer and read this bloody great book. Reclaim the orgasmic pleasures of a bloody good conversation. Don't let modern technology turn you into an uncommunicative ninny: ingest this book and start conversing...and then start living."
-Simon Doonan, author of Eccentric Glamour

"Take the wittiest, most spellbinding dinner companion and put her between book covers; that's The Art of Conversation by Catherine Blyth. ... By turns arch, humane, historical, and hysterically funny, she's the person you hope you'll find at the next cocktail party-or the person you'd like to be."
-Margaret Shepherd, author of The Art of Civilized Conversation
or
Not Currently Available for Direct Purchase