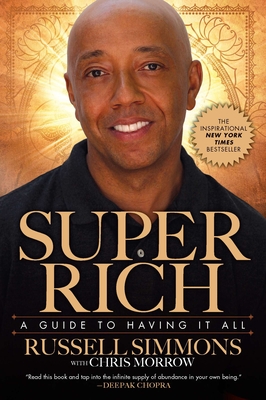 Super Rich: A Guide to Having It All (Paperback)
A Guide to Having It All
Gotham Books, 9781592406180, 197pp.
Publication Date: November 1, 2011
Description
The visionary entrepreneur and author of the New York Times bestseller Do You delivers a powerful guide to spiritual enlightenment.
Being "super rich" has little to do with living in a mansion and everything to do with living in a state of consciousness where you are equally connected to the world and your highest self. While it can be easy to become sidetracked chasing material wealth, the only worthwhile pursuit in life should be to find lasting, stable happiness.
Super Rich shares strategies on how to get past perceived obstacles to happiness and fill your life with friendship, compassion, laughter, love, a sense of fulfillment, and, yes, money. When you use your gifts and serve the world, the world will in return reward you. Through real-life examples, Russell provides the concepts and tools needed to transform your relationship with yourself and the world for the better. Super Rich offers a road map to lasting, stable abundance that is rooted in your consciousness. And once you tap into that consciousness and harness its power, then you're going to have access to the greatest stimulus package of all time: your higher self.
About the Author
Master entrepreneur and visionary Russell Simmons has influenced virtually all aspects of business and media: in music with the co-founding of the immensely successful original Def Jam Recordings; in the fashion industry with the trail-blazing Phat Farm, Baby Phat, Run Athletics, and Def Jam University clothing lines; in film with Simmons Lathan Media Group; in television with HBO s The Def Comedy Jam and Russell Simmons Presents Def Poetry; on Broadway with the Tony Award winning stage production Russell Simmons Def Poetry Jam on Broadway, and numerous other ventures in the financial services industry, mobile communications, and philanthropy. A native New Yorker, he is the proud father of two daughters."
Advertisement