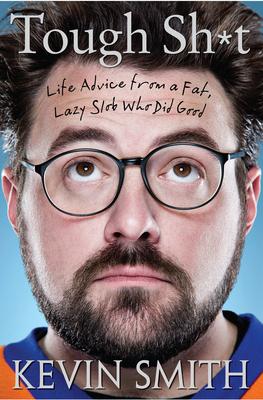 Tough Sh*t: Life Advice from a Fat, Lazy Slob Who Did Good (Hardcover)
Life Advice from a Fat, Lazy Slob Who Did Good
Gotham, 9781592406890, 272pp.
Publication Date: March 20, 2012
* Individual store prices may vary.
or
Not Currently Available for Direct Purchase
Description
"That "Kevin Smith? The guy who did Clerks a million years ago? Didn t they bounce his fat ass off a plane once? What could you possibly learn from the director of Cop Out ? How about this: he changed filmmaking forever when he was twenty-three, and since then, he's done whatever the hell he wants. He makes movies, writes comics, owns a store, and now he's built a podcasting empire with his friends and family, including a wife who's way out of his league. So here's some tough shit: Kevin Smith has cracked the code. Or, he's just cracked.
"Tough Sh*t" is the dirty business that Kevin has been digesting for 41 years and now, he's ready to put it in "your" hands. Smear this shit all over yourself, because this is your blueprint (or brownprint) for success. Kev takes you through some big moments in his life to help you live "your" days in as Gretzky a fashion as you can: going where the puck is "gonna" be. Read all about how a zero like Smith managed to make ten movies with no discernible talent, and how when he had everything he thought he d ever want, he decided to blow up his own career. Along the way, Kev shares stories about folks who inspired him (like George Carlin), folks who befuddled him (like Bruce Willis), and folks who let him jerk off onto their legs (like his beloved wife, Jen).
So make this your daily reader. Hell, read it on the toilet if you want. Just make sure you grab the bowl and push, because you re about to take one "Tough Sh*t.
About the Author
A writer, comedian, podcaster, and film director, Kevin Smith has written and directed numerous films, including "Clerks," "Chasing Amy," "Dogma," and "Red State"; authored "Silent Bob Speaks," "Shootin the Sh*t with Kevin Smith," and the "New York Times" bestsellers, "My Boring-Ass Life" and "Batman: Cacophony." He can be heard daily at Smodcast.com, a vast network of podcasts. His body and belongings may be found in Los Angeles, but it s a well-known fact that Smith actually lives on Twitter."
Praise For Tough Sh*t: Life Advice from a Fat, Lazy Slob Who Did Good…
"Kevin Smith is nicer than he lets on, thinner than he thinks, and smarter than almost anyone in the room. He has today's world - and tomorrow's – running for cover." -Mitch Albom"I suspect @ThatKevinSmith is what all gods and demons aspire to be." -Neil Gaiman via Twitter"Kevin Smith is a force of nature: He makes movies, he writes books and stuff, he talks and then he talks some more. Maybe he's less of a force of nature and more of a spreading cloud of secondhand weed smoke that is slowly infiltrating every medium available to us. Kevin Smith is the haze that binds us all." -Marc Maron"I certainly would never read anything written by Kevin Smith." -Tim Burton
Advertisement