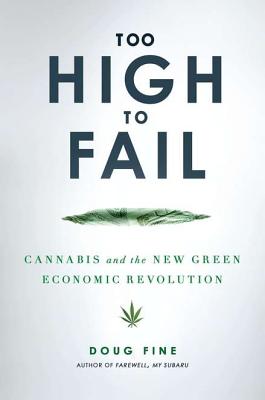 Too High to Fail (Hardcover)
Cannabis and the New Green Economic Revolution
Gotham Books, 9781592407095, 319pp.
Publication Date: August 2, 2012
Other Editions of This Title:
Paperback (7/2/2013)
* Individual store prices may vary.
Description
The first in-depth look at the burgeoning legal cannabis industry and how the new green economy is shaping our country
The nation's economy is in trouble, but there's one cash crop that has the potential to turn it around: cannabis (also known as marijuana and hemp). According to "Time," the legal medicinal cannabis economy already generates $200 million annually in taxable proceeds from a mere two hundred thousand registered medical users in just fourteen states.
But, thanks to Nixon and the War on Drugs, cannabis is still synonymous with heroin on the federal level even though it has won mainstream acceptance nationwide.
ABC News reports that underground cannabis's $35.8 billion annual revenues already exceed the combined value of corn ($23.3 billion) and wheat ($7.5 billion). Considering the economic impact of Prohibition and its repeal "Too High to Fail" isn t a commune-dweller's utopian rant, it's an objectively (if humorously) reported account of how one plant can drastically change the shape of our country, culturally, politically, and economically.
"Too High to Fail" covers everything from a brief history of hemp to an insider's perspective on a growing season in Mendocino County, where cannabis drives 80 percent of the economy (to the tune of $6 billion annually). Investigative journalist Doug Fine follows one plant from seed to patient in the first American county to fully legalize and regulate cannabis farming. He profiles an issue of critical importance to lawmakers, media pundits, and ordinary Americans whether or not they inhale. It's a wild ride that includes swooping helicopters, college tuitions paid with cash, cannabis-friendly sheriffs, and never-before-gained access to the world of the emerging legitimate, taxpaying ganjaprenneur.
About the Author
Doug Fine is the author of two previous books, "Not Really an Alaskan Mountain Man "and" Farewell, My Subaru "(a "Boston Globe" bestseller). He has reported for "The Washington Post," "Wired," "Salon," "High Times," "Outside," NPR, and "U.S. News & World Report." He currently lives in New Mexico, where he relocated his family to research this book.
Praise For Too High to Fail: Cannabis and the New Green Economic Revolution…
"Fine has written a well-researched book that uses the clever tactic of making the moral case for ending marijuana prohibition by burying it inside the economic case." -Bill Maher in The New York Times Book Review

"Fine examines how the American people have borne the massive economic and social expenditures of the failed Drug War, which is 'as unconscionably wrong for America as segregation and DDT.' A captivating, solidly documented work rendered with wit and humor."  —Kirkus (Starred Review)
"A well-researched journey into the world of legal cannabis farming and a funny, maddening account of [American] farmers' travails under federal persecution on an island of legality." —Outside

"In his entertaining new book…[Fine] successfully illuminates an unusual world where cannabis growers sing 'Happy Birthday' to (friendly law enforcement) while crossing their fingers against the threat of federal raids.This informative book will give even hardened drug warriors pause." —Publisher's Weekly
"An important book." —Michael Pollan via Twitter
or
Not Currently Available for Direct Purchase