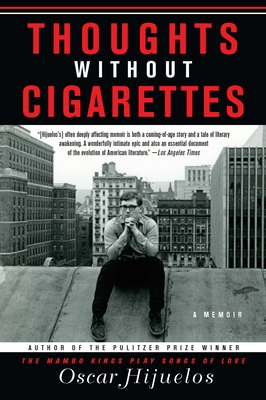 Thoughts Without Cigarettes (Paperback)
Gotham Books, 9781592407187, 367pp.
Publication Date: June 5, 2012
* Individual store prices may vary.
or
Not Currently Available for Direct Purchase
Description
A beloved Pulitzer Prize-winning novelist turns his pen to the real people and places that have influenced his life and literature. A comprehensive look into the mind of a writer.
Born in Manhattan's Morningside Heights to Cuban immigrants in 1951, Oscar Hijuelos introduces readers to the colorful circumstances of his upbringing. The son of a Cuban hotel worker and exuberant poetry-writing mother, his story, played out against the backdrop of a working-class neighborhood, takes on an even richer dimension when his relationship with his family and culture changes forever. During a sojourn with his mother in pre-Castro Cuba, he catches a disease that sends him into a Dickensian home for terminally ill children. The yearlong stay estranges him from the very language and people he had so loved.With a cast of characters whose stories are both funny and tragic, Thoughts Without Cigarettes follows Hijuelos's subsequent quest for his true identity a mystery whose resolution he eventually discovers hidden away in the trappings of his fiction, and which finds its most glorious expression in his best-known book, The Mambo Kings Play Songs of Love. Illuminating the most dazzling scenes from his novels, Thoughts Without Cigarettes reveals the true stories and indelible memories that shaped a literary genius.
About the Author
Oscar Hijuelos is the international bestselling author of eight novels, including The Mambo Kings Play Songs of Love, for which he became the first Latino to win the Pulitzer Prize for Fiction. He also has received the Rome Prize as well as prestigious grants from the National Endowment for the Arts and the Guggenheim Foundation. He lives in New York City.
Praise For Thoughts Without Cigarettes…
"In Thoughts Without Cigarettes, a brilliant novelist reveals what makes him tick and where he and all his characters have come from, offering us a mesmerizing glimpse of that mystical realm where the grittiest of realities are transformed into art and memories are redeemed."
—Carlos Eire, author of Waiting for Snow in Havana


"In this memoir Oscar Hijuelos achieves the miracle of transforming ordinary daily events into extraordinary happenings while recovering the lost time of childhood. He shines a light on the traumatic experience of being a Cuban forced to abandon his native language before becoming an American writer, a process which ironically draws him back to his roots."
—José Miguel Oviedo


"In Thoughts Without Cigarettes, Hijuelos revisits Oscar the child, the adolescent, the man, and finally the writer, in self-effacing, humorous, and sometimes heartbreaking moments that remind us why he's one of our most treasured contemporary authors."
—Esmeralda Santiago, author of Conquistadora and When I Was Puerto Rican

"Oscar Hijuelos looks back at his own life, and brings the same fine-grained detail, and prodigious powers of observation that mark his novels. He spares no one, least of all himself, in taking us from the isolation of a sick little boy to the success of a novelist just breaking big on the national scene. Oscar introduces us to great characters--including himself--and a great city during challenging times. That Thoughts Without Cigarettes reads like a novel will come as no surprise to Hijuelos fans." 
—Ray Suarez, Senior Correspondent, PBS Newshour


"Pulitzer Prize–winning novelist Hijuelos proves himself again with his autobiography… Readers who enjoyed Hijuelos' novels will enjoy his memoir, a revelation of the personal sources of most of his fiction."
—Library Journal
Advertisement