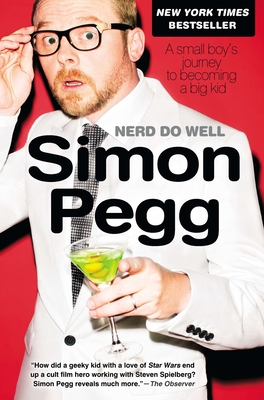 Nerd Do Well
A Small Boy's Journey to Becoming a Big Kid
Paperback

* Individual store prices may vary.
Other Editions of This Title:
Digital Audiobook (6/8/2011)
Hardcover (6/9/2011)
Description
The unique life story of one of the most talented and inventive comedians, star of Shaun of the Dead, Hot Fuzz, Paul, Spaced, and Star Trek.

Zombies in North London, death cults in the West Country, the engineering deck of the Enterprise -- actor, comedian, writer, and supergeek Simon Pegg has been ploughing some bizarre furrows. Having landed on the U.S. movie scene in the surprise cult hit Shaun of the Dead, his enduring appeal and rise to movie stardom has been mercurial, meteoric, megatronic, but mostly just plain great.From his childhood (and subsequently adult) obsession with science fiction, his enduring friendship with Nick Frost, and his forays into stand-up comedy, which began with his regular Monday-morning slot in front of his twelve-year-old classmates, Simon has always had a severe and dangerous case of the funnies.Whether recounting his experience working as a lifeguard at the city pool, going to Comic-Con for the first time and confessing to Carrie Fisher that he used to kiss her picture every night before he went to sleep, or meeting and working with heroes that include Peter Jackson, Kevin Smith, and Quentin Tarantino, Pegg offers a hilarious look at the journey to becoming an international superstar.
Praise For Nerd Do Well: A Small Boy's Journey to Becoming a Big Kid…
"When the hilarious Simon Pegg asked for a quote for his book, I said no." — Ricky Gervais

"Simon Pegg is the nerdiest nerd ever to nerd out about nerdiness. Read this hilarious book, nerd!" — Michael Ian Black, author of My Custom Van

"Nerd Do Well does the necessary job of telling Pegg's story, but does so in an intimate manner." — The Times (London)

"I read over 1 million books a year and this is the best book I have read in 15 years." — Kristen Wiig

"Hollywood's go-to geek talks about the chronicle of his passage through the lower-lying lands of popular culture." — Word magazine

"How did a geeky kid with a love of Star Wars end up a cult film hero working with Steven Spielberg? Simon Pegg reveals much more." — The Observer

"An anthology of childhood milestones and film analysis, Pegg's book isn't your run-of-the-mill celebrity tell-all." — Time.com

"Anyone over 13 who ever wrote middle-school-aged standup comedy, filmed stop-motion movies with their action figures, storyboarded Star Wars: Episode VII or mixed fake blood using corn syrup and food coloring will probably find a certain kinship with the writer of Nerd Do Well." — Wired.com

"As promised in the title, Pegg lets his nerd flag fly, offering extended reflections on the inner workings of comedy and his own fannish obsessions. Sweet, funny and moving, Nerd Do Well is about what you'd expect from Simon Pegg. Yeah, it's that good." — Kirkus Reviews

"Nerd Do Well makes an ideal summer read.  Pegg's discourse on the merits and shortcomings of the Star Wars movies are worth the price of the book themselves.  It's everything that Patton Oswalt's Zombie Spaceship Wasteland could have been but wasn't." — Examiner.com

"Overflowing with alarmingly bang-on analyses of geek/nerd iconography from the Enterprise to the Death Star to Comic-Con, the Pegg's Tale, so to speak, is the kind of personal history you wish all your four-color heroes would write but generally don't." — Austin Chronicle

"A charming collection of stories" — Slate.com
Avery, 9781592407194, 384pp.
Publication Date: June 5, 2012
About the Author
Simon Pegg is an actor, comedian, screenwriter, producer, and author. Best known for his roles in Shaun of the Dead, Hot Fuzz, Spaced, and Paul, he also played Scotty in Star Trek (2009). Simon lives in London with his wife and daughter.
or
Not Currently Available for Direct Purchase