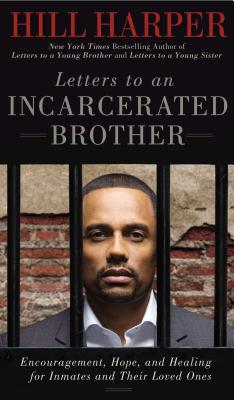 Letters to an Incarcerated Brother (Hardcover)
Encouragement, Hope, and Healing for Inmates and Their Loved Ones
Gotham Books, 9781592407248, 385pp.
Publication Date: November 5, 2013
Other Editions of This Title:
Digital Audiobook (2/20/2014)
Paperback (4/1/2014)
* Individual store prices may vary.
Description
A compelling, important addition to Hill Harper's bestselling series, inspired by the numerous young inmates who write to him seeking guidance
After the publication of the bestselling "Letters to a Young Brother," accomplished actor and speaker Hill Harper began to receive an increasing number of moving letters from inmates who yearned for a connection with a successful role model. With disturbing statistics on African-American incarceration on his mind (one in six black men were incarcerated as of 2001, and one in three can now expect to go to prison some time in their lifetimes), Harper set out to address the specific needs of inmates.
A powerful message from the heart, "Letters to an Incarcerated Brother "provides advice and inspiration in the face of despair along with encouraging words for restoring a sense of self-worth. As the founder of Manifest Your Destiny, a nonprofit outreach program for at-risk teens, Harper has seen firsthand the transformative effect of mentorship and the power of a positive role model. This latest addition to Hill Harper's "Letters "series delivers visionary, compassionate responses to the real-life circumstances of inmates. As with the other "Letters "books, Harper includes moving contributions from top educators, activists, thought leaders, and entertainers. Uplifting and insightful, "Letters to an Incarcerated Brother "provides the hope and inspiration inmates and their families need.
About the Author
Hill Harper s bestselling books include "Letters to a Young Brother, Letters to a Young Sister, The Conversation," and "The Wealth Cure." He stars in "CSI: NY" (for which he has earned three NAACP Image Awards) and holds degrees from Brown, Harvard Law School, and the Kennedy School of Government."
Praise For Letters to an Incarcerated Brother: Encouragement, Hope, and Healing for Inmates and Their Loved Ones…
 Praise for Letters to an Incarcerated Brother

"A must-read for all parents to share with their sons (and daughters)."
–Essence Magazine
  "A clear, soul-stirring story that compels you (the reader) to take action and help change America for the better."
–IamEntertainmentMagazine.com
    "Sage, dignified adjuration for the imprisoned. . . . An inspiring jail companion guidebook brimming with straight-talking tough love."
–Kirkus Reviews
   
Select Praise for The Wealth Cure:

"This is a different kind of financial book, one that not only urges us to look at how we use our money but also at how we define wealth. It's as much about personal philosophy as about advice on building a solid financial future."
–USA Today

"The Wealth Cure could fit comfortably in the self-help or personal finance aisle, melding together life strategies, wisdom from family and strangers he meets on a cross-country train ride, and nuts-and-bolts budgeting advice. It's a guide that doesn't promise to get you rich quick, but to quickly help your life get richer."
–AOL Daily Finance

"Too many of us think we don't have the ability to better identify how to spend our money, but in Hill Harper's latest book he gives advice on simple ways to save more and admits some of his own financial and personal challenges."
–Chicagotribune.com

Select Praise for The Conversation:

"Hill Harper trades solving crimes on-screen for a new mission: fixing relationship drama."
–Essence

"Hill's work presents a light, insightful, and accessible user's manual for African American men and women to better understand that which keeps us apart (and hopefully what can bring us closer together)."
–wearerespectablenegroes.blogspot.com

Select Praise for Letters to a Young Sister:

"When Hill told me about Letters to a Young Sister, my first thought was how badly I could have used a book like this growing up." – Gabrielle Union

"This book would make a wonderful gift for any teen looking to find her place in life."
–Star Tribune

"Get it, read it, and share it."
–Detroit Free Press

"Hill, speaking like an older brother, lays out his vision to young women who are confronting rough issues on how to become the architect of their own lives."
–Ebony

"Hill Harper is right. Now is our time (both sisters and brothers, young and old) to uplift ourselves."
–BlackVoices.com

"In his straight-talking style, Hill helps his young sister build self-confidence, self-reliance, self-respect, and encourages her on her journeys towards becoming a strong and successful woman."
–Concrete Loop

Select Praise for Letters to a Young Brother:

"Harper's message is a solo soaring above the choir..."
–The LA Times

"In clear, accessible language, Harper encourages his youthful readers to maintain productive values and never give up hope. . . . With frank, loving advice about relationships, careers, sex, education, spirituality and money, Harper helps young readers take that first step toward fruitful change."
–The Washington Post

"In a direct and often colloquial tone...the letters stress the importance of having options and working smart, not just hard."
–The New York Times

"An inspirational guidebook for young men...he tackles real life issues that young men encounter today."
–The Charlotte Post

"...inspiration to young men clamoring for advice and encouragement at a time when popular culture offers little positive direction... Although aimed at young black men, this book, with its contemporary language and approach, should have appeal for youth of both sexes and all races."
–Booklist
or
Not Currently Available for Direct Purchase