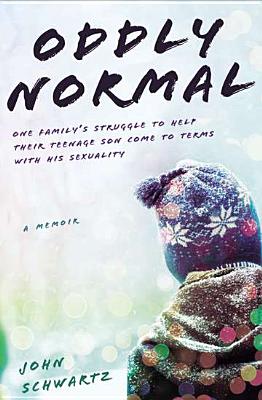 Oddly Normal
One Family's Struggle to Help Their Teenage Son Come to Terms with His Sexuality
Hardcover

* Individual store prices may vary.
Other Editions of This Title:
Digital Audiobook (11/7/2012)
Paperback (9/3/2013)
MP3 CD (12/1/2016)
MP3 CD (9/3/2013)
Compact Disc (9/3/2013)
MP3 CD (11/8/2012)
Compact Disc (11/8/2012)
Description
A heartfelt memoir by the father of a gay teen, and an eye-opening story for families who hope to bring up well-adjusted gay adults.
Three years ago, John Schwartz, a national correspondent at "The New York Times," got the call that every parent hopes never to receive: his thirteen-year-old son, Joe, was in the hospital following a failed suicide attempt. After mustering the courage to come out to his classmates, Joe's disclosure delivered in a tirade about homophobic attitudes was greeted with dismay and confusion by his fellow students. Hours later, he took an overdose of pills.
Additionally, John and his wife, Jeanne, found that their son's school was unable to address Joe's special needs. Angry and frustrated, they initiated their own search for services and groups that could help Joe understand that he wasn t alone. "Oddly Normal" is Schwartz's very personal attempt to address his family's own struggles within a culture that is changing fast, but not fast enough to help gay kids like Joe.
Schwartz follows Joseph through childhood to the present day, interweaving his narrative with common questions, including: Are effeminate boys and tomboy girls necessarily gay? Is there a relationship between being gay and suicide or mental illness? Should a child be pushed into coming out? Parents, teachers, and counselors alike will welcome "Oddly Normal" and its crucial lessons about helping gay kids and any kid who is different -- learn how to cope in a potentially hostile world.
Praise For Oddly Normal: One Family's Struggle to Help Their Teenage Son Come to Terms with His Sexuality…
"Schwartz's frank discussion of a subject many still find taboo will be helpful to parents of LGBT children as one example of how to accept a natural condition with dignity and love. An added bonus is the delightful story written and illustrated by Joe. An honest, earnest, straightforward account of one boy's coming out."
—Kirkus Reviews

"[A] moving account of a family's journey to raise and protect their gay son… Equally humorous and heartrending, this memoir reveals just what it takes to raise children who are different in a world still resistant."
—Publishers Weekly

"John Schwartz and Jeanne Mixon are the heroes of Oddly Normal.  Still, the star of the book is Joe.  It's impossible not to fall in love with a kid who, even amid his torment, displays such droll humor and fierce intelligence."
—The New York Times Book Review

"Schwartz writes a poignant and well-documented account of what it meant to be a father who had tried all he could to make his son feel comfortable, but still came terrifyingly close to losing him."
—The Daily Texan

"An inspiring story, and much needed at a time when so many others end tragically."
—ModernTonic.com

"Oddly Normal chronicles the Schwartz family's mistakes, heartaches and triumphs in raising a child coming to grips with his sexuality."
—Mother Jones Magazine

"Oddly Normal is a funny, touching and indispensible book. Moving as well as buoyant, it will give parents of gay children a great deal of hope."
—Gary Shteyngart, New York Times bestselling author of Super Sad True Love Story

"John Schwartz has written a moving and important memoir about the challenges that even the most enlightened parents face when bringing up a gay son. Combining personal experiences with rigorous reporting, Oddly Normal will be tremendously useful to anyone raising a child perceived as different."
—Charles Kaiser, author of The Gay Metropolis

"John Schwartz shares his family's bumpy journey with humor, a journalist's eye for detail, and a generous honesty of emotion."
—Jennifer Pizer, Senior Counsel and Director of the Law and Policy Project at Lambda Legal Defense and Education Fund

"Oddly Normal is a book for parents, teachers, and anyone who works with children. Mr. Schwartz illustrates how even the most accepting parents often need assistance staying engaged, to best help a child who is not fitting in—in fact, there is a little bit of Joseph Schwartz in every kid."
—Joseph Clementi, founder of the Tyler Clementi Foundation

"Jeanne and John Schwartz are inspiring parental role models, and I'm sure I'll think of them often…"
—Slate.com   "Schwartz, an ace reporter for the New York Times, peppers his emotional response with vital research and telling anecdotes."
—Queerty.com

"Schwartz's memoir is brave and beautiful, surprising and inspiring, a testament to parents' endless determination to help their children, and the bottomless capacity for love."
—CNN.com
 
"[A] very personal, touching, funny and frank memoir. Anyone with a teenager, gay or straight, will be able to relate to a parent's struggle when dealing with their troubled child."
—USATODAY.com
 
Gotham Books, 9781592407286, 304pp.
Publication Date: November 8, 2012
About the Author
John Schwartz is a national correspondent with the "New York Times," where he covers law, science, technology, business and a broad range of other topics. Prior to that, he worked at the" Washington Post "and "Newsweek" and his writing has also appeared in "The Wall Street Journal," "GQ," "Texas Monthly" and other publications. He is a graduate of the University of Texas at Austin and University of Texas Law School. He currently lives in New Jersey with his college sweetheart, Jeanne Mixon. They have three children and two difficult cats."
or
Not Currently Available for Direct Purchase