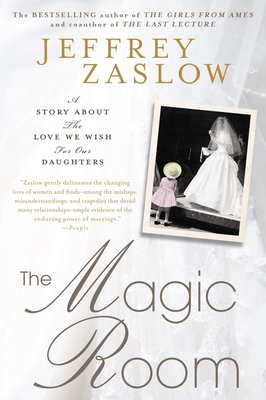 The Magic Room (Paperback)
A Story about the Love We Wish for Our Daughters
Avery Publishing Group, 9781592407415, 289pp.
Publication Date: October 2, 2012
* Individual store prices may vary.
Description
The New York Times bestselling author of The Girls from Ames shares an intimate look at a small-town bridal shop, its multigenerational female owners, and the love between parents and daughters as they prepare for their wedding day.
Thousands of women have stepped inside Becker's Bridal, in Fowler, Michigan, to try on their dream dresses in the Magic Room, a special space with soft lighting, a circular pedestal, and mirrors that carry a bride's image into infinity. The women bring with them their most precious expectations about romance, love, fidelity, permanence, and tradition. Each bride who passes through has a story to tell--one that carried her there, to that dress, that room, that moment.

Illuminating the poignant aspects of a woman's journey to the altar, The Magic Room tells the stories of memorable women on the brink of commitment. Run by the same family for four generations, Becker's has witnessed transformations in how America views the institution of marriage: some of the shop's clientele are becoming stepmothers, some are older brides, some are pregnant. Shop owner Shelley has a special affection for all the brides, hoping their journeys will be easier than hers. Jeffrey Zaslow weaves their true stories using a reporter's research and a father's heart.
The lessons Zaslow shares from within the Magic Room are at times joyful, at times heartbreaking, and always with insight on marriage, family, and the lessons that parents--especially mothers--pass on to their daughters about love. Weaving together secrets, memories, and family tales, The Magic Room explores the emotional lives of women in the twenty-first century.
About the Author
Jeffrey Zaslow was a columnist for The Wall Street Journal and author of the New York Times bestseller The Girls from Ames. He was coauthor with Chesley Sullenberger on Highest Duty; with Representative Gabrielle Giffords and her husband on Gabby; and with Randy Pausch on The Last Lecture, the number one bestseller.
Praise For The Magic Room: A Story about the Love We Wish for Our Daughters…
"Zaslow captures the joy, hope, love and magic." (Top Pick)
-Bookpage

"A compelling and sincere chronology of the experiences, tragedies, and love that led them to the shop. His narrative is sprinkled with fascinating statistical information … and insights into the lives and relationships of the four generations of Becker women who have worked at the store … A study of individual lives and dreams, this is recommended for casual readers and those with an interest in cultural and social customs concerning marriage, women's roles, and parent-child relationships."

-Library Journal

"The Magic Room has all the makings of a cozy, nostalgic wedding read. Tulle, check. Satin and organza, check. Bridezillas, drama and tears? Yes, yes, yes….the highlight of the book is the comings and goings of bride after bride through Becker's, Zaslow also details the excitement and joy of getting married and the commitment and dedication it takes to stay married."—Minneapolis Star Tribune "Interesting, rewarding and heartbreaking"—The Washington Post "Shows the poignancy in everyday love stories."—The New York Times "Forget bridezillas.  A best-selling journalist visits a small-town wedding shop to uncover the poignant dreams of real women on the verge of commitment."—O, the Oprah Magazine "A tenderhearted portrait of a bridal store in a small Michigan town... In a handful of their stories, Zaslow gently delineates the changing lives of women and finds—in among the mishaps, misunderstandings and tragedies that derail many relationships—ample evidence of the enduring power of marriage."—People Magazine "The book itself — to use the manliest possible term — is lovely. As lovely as a bride."—Detriot News "Anyone looking for happily-ever-afters will find plenty of them here."—Columbus Dispatch "Zaslow's profile of the bridal shop, from the geopolitics of dressmaking to the effects of TV shows like Bridezillas, is almost as riveting as the bridal tales. The author plucks at the heartstrings as he relates all the yearnings of the brides-to-be and the travails they encounter on the way to the altar."—Kirkus Reviews "Tender and intimate."—Publishers Weekly "Zaslow captures the joy, hope, love and magic." (Top Pick)—Bookpage "A compelling and sincere chronology of the experiences, tragedies, and love that led them to the shop. His narrative is sprinkled with fascinating statistical information … and insights into the lives and relationships of the four generations of Becker women who have worked at the store … A study of individual lives and dreams, this is recommended for casual readers and those with an interest in cultural and social customs concerning marriage, women's roles, and parent-child relationships."—Library Journal
Book Videos