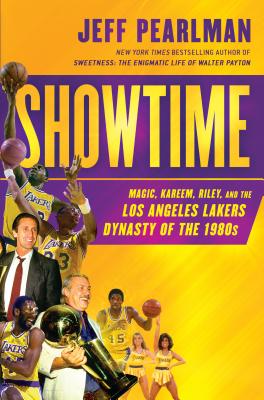 Showtime
Magic, Kareem, Riley, and the Los Angeles Lakers Dynasty of the 1980s
Hardcover

* Individual store prices may vary.
Other Editions of This Title:
Digital Audiobook (3/3/2014)
Paperback (10/7/2014)
Compact Disc (3/4/2014)
MP3 CD (3/4/2014)
Compact Disc (3/4/2014)
Description
The" New York Times" bestselling author of "Sweetness" delivers the first all-encompassing account of the 1980s Los Angeles Lakers, one of professional sports' most-revered--and dominant--dynasties.
The Los Angeles Lakers of the 1980s personified the flamboyance and excess of the decade over which they reigned. Beginning with the arrival of Earvin "Magic" Johnson as the number-one overall pick of the 1979 draft, the Lakers played basketball with gusto and pizzazz, unleashing their famed "Showtime" run-and-gun style on a league unprepared for their speed and ferocity--and became the most captivating show in sports and, arguably, in all-around American entertainment. The Lakers' roster overflowed with exciting all-star-caliber players, including center Kareem Abdul-Jabbar, and they were led by the incomparable Pat Riley, known for his slicked-back hair, his Armani suits, and his arrogant strut. Hollywood's biggest celebrities lined the court and gorgeous women flocked to the arena. Best of all, the team was a winner. Between 1980 and 1991, the Lakers played in an unmatched nine NBA championship series, capturing five of them.
Bestselling sportswriter Jeff Pearlman draws from almost three hundred interviews to take the first full measure of the Lakers' epic Showtime era. A dazzling account of one of America's greatest sports sagas, "Showtime" is packed with indelible characters, vicious rivalries, and jaw-dropping, behind-the-scenes stories of the players' decadent Hollywood lifestyles. From the Showtime era's remarkable rise to its tragic end--marked by Magic Johnson's 1991 announcement that he had contracted HIV--"Showtime "is a gripping narrative of sports, celebrity, and 1980s-style excess.
Praise For Showtime: Magic, Kareem, Riley, and the Los Angeles Lakers Dynasty of the 1980s…
Praise for Jeff Pearlman and Showtime

"A marvelous and dishy history of the Showtime Lakers, full of bare-knuckled assessments . . . What a tonic Jeff Pearlman's new book is for forlorn Lakers fans suffering through the team's disastrous current season."
—Los Angeles Times

"The Showtime Lakers weren't just the best team of their era. They were also the most compelling, the most charismatic, the most complex. The Lakers of Kareem, Magic and Riley were to the 1980s what the Yankees of Mantle, Ford, and Stengel were to the 1950s: A team perfectly matched to its time, and place. Jeff Pearlman, typically, delivers the goods, celebrating them for their achievements, pulling no punches on the subject of their shortcomings. This is a vivid portrait of a great team, in full."
—Jeremy Schaap, ESPN commentator, New York Times best-selling author of Cinderella Man and Triumph 

"The names (Magic, Kareem, Worthy, Riley, Buss) and the games (four championships) have long been studied by basketball's anthropologists. But so much of the story of the Showtime Lakers, THE Team of the 80s, took place behind closed doors. Jeff Pearlman, as is his wont, pries them open and finds … a whole lot of L.A. living."
—Jack McCallum, author of New York Times best-seller Dream Team

"An era that redefined the game has found a storyteller more than up to the task. By any measure, Showtime is magic."
—Mark Frost, author of The Greatest Game Ever Played

"Showtime proves to be prime-time literary entertainment. A rocking, roller-coast of a ride it reads like the Lakers of Magic and Riley played—an artistic fast-break of revealing, sometimes shocking tales tinged with sex, drugs and, most of all humanity. You want to know the real story behind a beautifully dysfunctional basketball dynasty? Read this book."
—Armen Keteyian, 60 Minutes Sports

"Showtime is a rollicking ride, full of great characters, killer anecdotes and surprising details. Pearlman is an indefatigable reporter, and here he provides an all-access pass to one of the game's greatest dynasties, with tales of Kareem, Magic, Riley and Jerry Buss in their heyday. It's a book any NBA fan—any sports fan—will devour, likely in one or two sittings."
—Chris Ballard, Senior Writer, Sports Illustrated

"Once again, Jeff Pearlman has produced an exhaustively researched, elegantly written book that recreates one of the most colorful and memorable teams of the modern era. Showtime is a great show indeed, full of colorful (and complicated) characters as well as a trove of details that even the most passionate fans will be amazed to learn. No basketball fan's bookshelf will be complete without it."
—Seth Davis, author of Wooden: A Coach's Life
 
Gotham Books, 9781592407552, 482pp.
Publication Date: March 4, 2014
About the Author
Jeff Pearlman is a "New York Times "bestselling author and sports writer. He has worked as a columnist for SI.com and ESPN.com, a senior writer for "Sports Illustrated," a features writer for "Newsday," and a contributor to "The Wall Street Journal "and CNN.com. He lives in New York.
or
Not Currently Available for Direct Purchase