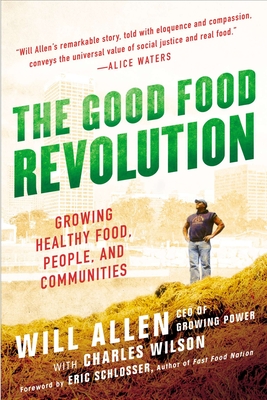 The Good Food Revolution
Growing Healthy Food, People, and Communities
Paperback

* Individual store prices may vary.
Other Editions of This Title:
Digital Audiobook (11/26/2018)
Hardcover (5/10/2012)
Description
A pioneering urban farmer and MacArthur Genius Award-Winner points the way to building a new food system that can feed- and heal- communities.

The son of a sharecropper, Will Allen had no intention of ever becoming a farmer himself. But after years in professional basketball and as an executive for Kentucky Fried Chicken and Procter & Gamble, he cashed in his retirement fund for a two-acre plot just outside Milwaukee's largest public housing project. The area was a food desert with only convenience stores and fast-food restaurants to serve the needs of locals.

Despite financial challenges and daunting odds, Allen built the country's preeminent urban farm-a food and educational center that now produces enough produce and fish year-round to feed thousands. Employing young people from the neighboring housing project and community, Growing Power shows how local food systems can help troubled youths, dismantle racism, create jobs, bring urban and rural communities closer together, and improve public health. Today, Allen's organization helps develop community food systems across the country.

An eco-classic in the making, The Good Food Revolution is the story of Will's personal journey, the lives he has touched, and a grassroots movement that is changing the way our nation eats.
Praise For The Good Food Revolution: Growing Healthy Food, People, and Communities…
"Will Allen's remarkable story, told with eloquence and compassion, conveys the universal value of social justice and real food." — Alice Waters

"From the plots of his Milwaukee urban farm to low-income communities across America, Will Allen has shown us a new type of heroism.  Through The Good Food Revolution, Allen recounts his effort to reclaim his family's heritage and, in doing so, confront lingering disparities in racial and economic justice.  As the champion of a new and promising movement, Allen is skillfully leading Americans to face one of our  greatest domestic issues – our health." — Former President Bill Clinton

"Not only compelling but a treatise on how our country supplies food and how the absence of a grocery store in your 'hood is no excuse for not finding a good way to feed your family good food." — Ebony

"What Allen does with a small plot of land and a lot of determination is nothing short of inspiring. A moving story of one man's success in producing healthy food for those who need it the most." — Kirkus Reviews

"Far more than a book about food, The Good Food Revolution captivates your heart and mind with the sheer passion of compelling and righteous innovation. Wow!" — Joel Salatin, Author and Farmer at Polyface Farm, Inc.

"Will Allen is a hero and an inspiration to urban farmers everywhere.  Now, with The Good Food Revolution, we learn  how Allen rediscovered the power of agriculture, and in doing so transformed a city, its community, and eventually the world – with the help of millions of red wiggler worms.  Told with grace and utter honesty, I found myself cheering for Allen and his organization, Growing Power."  — Novella Carpenter, Author of Farm City and The Essential Urban Farmer

"Generously and forthrightly sharing his life story and his passions as he makes the case for a new food system, Allen inspires us to move beyond self-interest when considering greener and healthier food. Assisted by the able writing of journalist Charles Wilson, Allen gives us the straight talk we yearn to hear from politicians…These gripping personal stories woven through the narrative provide a strong foundation for Allen's incisive historical and social commentary…The Good Food Revolution is a real-world guidebook to positive change." — Real Change News

"The Good Food Revolution is the kind of book you just can't put down, rich with personal stories, and full of insightful lessons about business and life that transcend the food industry. There are fundamental lessons in Allen's work that all leaders can learn from." — 800 CEO Read/Blog

"Mr. Allen's connection to his sharecropper roots may open the way against the larger stigma against raising our own food: a need to escape from an occupation equated with poverty and inequality." — Karen Tallant, Booksellers at Laurewood
Avery, 9781592407606, 304pp.
Publication Date: July 2, 2013
About the Author
After retiring from professional basketball and executive positions at Kentucky Fried Chicken and Procter & Gamble, Will Allen became the CEO of Growing Power. He lives in Milwaukee. Charles Wilson is a journalist and the coauthor with Eric Schlosser of the #1 New York Times bestselling children's book Chew on This: Everything You Don't Want to Know About Fast Food.