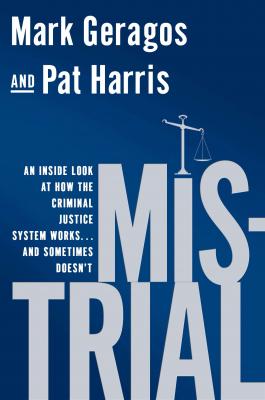 Mistrial (Hardcover)
An Inside Look at How the Criminal Justice System Works...and Sometimes Doesn't
Gotham Books, 9781592407729, 304pp.
Publication Date: April 11, 2013
Other Editions of This Title:
Paperback (10/1/2013)
* Individual store prices may vary.
Description
A searing and entertaining manifesto on the ills of the criminal justice system from two of America's most prominent defense attorneys.
From the rise of the Internet and the 24-hour news cycle to the television ratings bonanza of the O.J. Simpson trial, a perfect storm of media coverage has given the public an unprecedented look inside the courtroom, kicking off popular courtroom shows and TV legal commentary that further illuminate how the criminal justice system operates. Or has it?
In "Mistrial," Mark Geragos and Pat Harris debunk the myths of judges as Solomon-like figures, jurors as impartial arbiters of the truth, and prosecutors as super-ethical heroes.
"Mistrial" draws the curtain on the court's ugly realities from stealth jurors who secretly swing for a conviction, to cops who regularly lie on the witness stand, to defense attorneys terrified of going to trial. Ultimately, the authors question whether a justice system model drawn up two centuries ago before blogs and television is still viable today.
In the aftermath of recent high-profile cases, the flaws in America's justice system are more glaring than ever. Geragos and Harris are legal experts and prominent criminal defense attorneys who have worked on everything from celebrity media-circuses having represented clients like Michael Jackson, Winona Ryder, Scott Peterson, Chris Brown, Susan MacDougal, and Gary Condit to equally compelling cases defending individuals desperate to avoid the spotlight.
Shining unprecedented light on what really goes on in the courtroom, "Mistrial" is an enjoyable, fun look at a system that rarely lets you see behind the scenes.
About the Author
Mark Geragos is the head of Geragos & Geragos, a Los Angeles-based law firm that focuses on both criminal and civil trial work. In his 30-plus year career, he has tried approximately 300 cases and has served as a regular legal analyst on CNN, Fox, and ABC shows. He lives in Los Angeles, California with his wife and two children.

Pat Harris is a leading criminal defense attorney and is a partner at Geragos & Geragos. He is a regular contributor on legal issues for shows on Fox and CNN, is the co-author of Susan McDougal s "New York Times" bestselling memoir "The Woman Who Wouldn t Talk, " and speaks regularly at law schools across the country. He lives in Studio City, California with his wife."
Praise For Mistrial: An Inside Look at How the Criminal Justice System Works...and Sometimes Doesn't…


 "Mistrial is three books in one: a memoir of celebrity lawyers, a primer on how to handle high-profile cases and a diagnosis of the ills of the criminal-justice system.... A win: engaging, enlightening and entertaining."
—David Lat, The Wall Street Journal

"Mistrial is the story of extraordinary careers as the go-to lawyers for the celebrated (or notorious, or both) defendant. Don't miss it!" —Jeffrey Toobin, New York Times bestselling author of The Nine: Inside the Secret World of the Supreme Court, legal affairs writer for The New Yorker, and senior legal analyst for CNN

"[Mark Geragos] is one of those rare lawyers recognizable everywhere."
—Los Angeles Times

"[Geragos] is arguably the hottest defense lawyer of the moment."
—Los Angeles Daily Journal

 


or
Not Currently Available for Direct Purchase