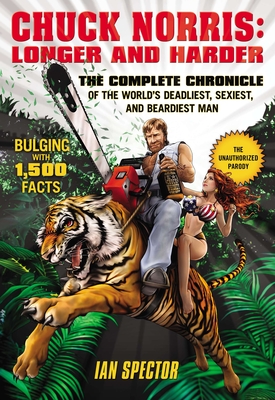 Chuck Norris (Paperback)
Longer and Harder: The Complete Chronicle of the World's Deadliest, Sexiest, and Beardiest Man
Avery, 9781592407934, 464pp.
Publication Date: November 6, 2012
* Individual store prices may vary.
Description
The ultimate collection of 1,500 facts about the world's toughest and most awesome man.

Finally, the wait is over. The most comprehensive collection of Chuck Norris facts from the New York Times bestselling series by Ian Spector is ready to blow your mind. Only the manliest of men will be able to handle this bind-up of The Truth About Chuck Norris, Chuck Norris vs. Mr. T, Chuck Norris Cannot Be Stopped, The Last Stand of Chuck Norris, and over one hundred new facts. There is nowhere to run, nowhere to hide from these 1,500 facts about the man so powerful we quake when uttering his name: Chuck Norris.
About the Author
Ian Spector started the Web phenomenon "Chuck Norris Facts" back in 2005 and is a
New York Times
bestselling author. He is a graduate of Brown University and currently lives in Manhattan, running a social technology start-up, and is a freelance digital strategy consultant.