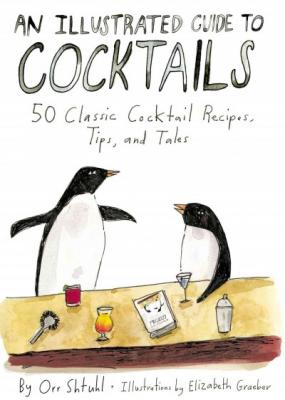 An Illustrated Guide to Cocktails (Hardcover)
50 Classic Cocktail Recipes, Tips, and Tales
Avery, 9781592407958, 176pp.
Publication Date: May 7, 2013
* Individual store prices may vary.
Description
Shaken or stirred, on the rocks or straight up, every cocktail has a unique history. Bringing this rich lore to life, An Illustrated Guide to Cocktails showcases the often romantic origin of classic and modern mixed drinks and the fascinating characters who made them famous. From the crooked gangster who inspired the Jack Rose (a drink often served in Manhattan's gilded Astor mansion during the Jazz Age) to the legendary Margarita (associated with the Tijuana dancer now known by her stage name, Rita Hayworth), the spirited blend of alcohol and alchemy is showcased on each beautifully illustrated page. The drink recipes include favorite classics (such as Old Fashion, White Russian, Sidecar) alongside forgotten standards such as the Blood and Sand. With guides to various spirits, suggestions for stocking your home bar, and mixing tips and techniques, An Illustrated Guide to Cocktails brings the marvels of mixology to every home bartender.
About the Author
Former speakeasy operator Orr Shtuhl is a writer and drinker (not always in that order) who penned the Beerspotter columnist for the Washington City Paper for three years. His work has also been featured on NPR and in major daily newspapers. He lives in Brooklyn.

Elizabeth Graeber's illustrations have appeared in a variety of publications, and in 2012 the Washington City Paper named her Washington D.C.'s best local illustrator.
Praise For An Illustrated Guide to Cocktails: 50 Classic Cocktail Recipes, Tips, and Tales…
"A whimsical little book"
–Florence Fabricant, The New York Times
 
"Cocktail enthusiasts with short attention spans - that would be many of us - will appreciate An Illustrated Guide to Cocktails. . . It's a hoot. . . Station it near the wet bar and mix away while tossing anecdotes at your guests."
–Dallas Morning News  
 
"the perfect addition to any bar cart or coffee table."
–The Greatest
 
"An Illustrated Guide to Cocktails is a bar gem."
–Serious Eats
 
"Visiting a friend's vacation house? An Illustrated Guide to Cocktails makes a great host gift. It's full of dozens of delicious tipples and charming illustrations"
–The Daily Meal