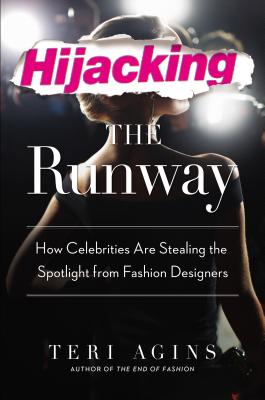 Hijacking the Runway
How Celebrities Are Stealing the Spotlight from Fashion Designers
Hardcover

* Individual store prices may vary.
Other Editions of This Title:
CD-Audio (10/9/2014)
Description
A fascinating chronicle of how celebrity has inundated the world of fashion, realigning the forces that drive both the styles we covet and the bottom lines of the biggest names in luxury apparel.
 
From Coco Chanel's iconic tweed suits to the miniskirt's surprising comeback in the late 1980s, fashion houses reigned for decades as the arbiters of style and dictators of trends. Hollywood stars have always furthered fashion's cause of seducing the masses into buying designers' clothes, acting as living billboards. Now, forced by the explosion of social media and the accelerating worship of fame, red carpet celebrities are no longer content to just advertise and are putting their names on labels that reflect the image they—or their stylists—created.
 
Jessica Simpson, Jennifer Lopez, Sarah Jessica Parker, Sean Combs, and a host of pop, sports, and reality-show stars of the moment are leveraging the power of their celebrity to become the face of their own fashion brands, embracing lucrative contracts that keep their images on our screens and their hands on the wheel of a multi-billion dollar industry. And a few celebrities—like the Olsen Twins and Victoria Beckham—have gone all the way and reinvented themselves as bonafide designers. Not all celebrities succeed, but in an ever more crowded and clamorous marketplace, it's increasingly unlikely that any fashion brand will succeed without celebrity involvement—even if designers, like Michael Kors, have to become celebrities themselves.
 
Agins charts this strange new terrain with wit and insight and an insider's access to the fascinating struggles of the bold-type names and their jealousies, insecurities, and triumphs. Everyone from industry insiders to fans of Project Runway and America's Next Top Model will want to read Agins's take on the glitter and stardust transforming the fashion industry, and where it is likely to take us next.
Praise For Hijacking the Runway: How Celebrities Are Stealing the Spotlight from Fashion Designers…
Advance Praise for Hijacking the Runway

"It was just a matter of time before celebrities—with their delusions of grandeur and omnipotence—might attempt to conquer the world of fashion. Hijacking the Runway shows who's making it, who's faking it and why we're all along for the ride. Teri Agins delivers a wicked combo: journalism that's a smashing, fun read."
—Simon Doonan, author of The Asylum and Creative Ambassador Barneys New York

"Hijacking the Runway is rich, gossipy and rewarding in its insights about the romp of celebrities through fashion. A brilliant reporter, Teri Agins documents the clout of Jessica Simpson and the magical yearning of Kanye West, amid other vivid portraits in a story waiting to be told. Agins gets the scoop."
—Cathy Horyn, former New York Times fashion critic 
 
"You can always trust that Teri Agins will deliver all the heretofore unknown, deep-dish on the inside workings of the fashion industry. Hijacking the Runway reads as an intimate conversation with one of fashion's key insiders and is delivered in a voice as quick, sharp and knowledgeable as its author."
 —Tracy Reese, designer     


Praise for THE END OF FASHION

Teri Agins is one of the most influential and well-respected reporters in the industry of fashion and all its facets. THE END OF FASHION is a watershed book which has pioneered a new realm of what fashion means to people. This is a landmark book which reveals the complexities inside fashion in an original and entertaining way. — Andre Leon Talley, editor-at-large, Vogue

THE END OF FASHION rips into the seamy underbelly of a world where marketing is king, and often the emporer has no clothes. — Vanity Fair

A fascinating read for anyone who lives the industry, its players, or clothing itself. — The Boston Globe

Agins has a gift for bringing fashion to life...It may indeed be the end of fashion, but Agins makes it an entertaining ride. — Newsweek

Fast reading and surgically precise. The hottest business book at the start of the millennium. THE END OF FASHION should be required reading for everyone in our industry. — Bud Konheim, CEO, Nicole Miller

It ought to be required reading for people who think they might like to be clothing designers. — New York Times

No other writer has the combined wit, style, sources, and fashion industry savvy to match the Wall Street Journal's Teri Agins, and it's all on display in THE END OF FASHION. The depth of reporting makes this essential reading not just for "fashionistas," but anyone interested in how business really works--or fails--in this dizzying world of art, culture, entertainment, and finance. — James B. Stewart, author of DEN OF THIEVES and BLOOD SPORT

Will have old-school fashionistas weeping into their Ferragamo scarves. — Entertainment Weekly
Avery, 9781592408146, 288pp.
Publication Date: October 9, 2014
About the Author
Teri Agins is the author of The End of Fashion and has covered fashion for almost thirty years. She developed the fashion beat for The Wall Street Journal and continues to write the weekly "Ask Teri" column. Agins has won many awards for her fashion writing and has written for Vogue, Town&Country, and Harper's Bazaar, among numerous other publications. She lives in New York City.
or
Not Currently Available for Direct Purchase