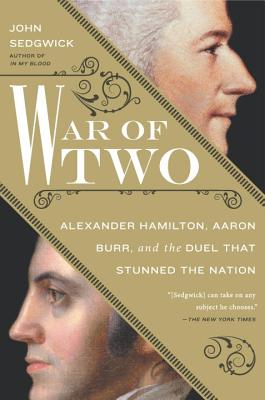 War of Two
Alexander Hamilton, Aaron Burr, and the Duel that Stunned the Nation
Hardcover

* Individual store prices may vary.
Other Editions of This Title:
Digital Audiobook (10/19/2015)
Paperback (10/18/2016)
Description
A provocative and penetrating investigation into the rivalry between Alexander Hamilton and Aaron Burr, whose infamous duel left the Founding Father dead and turned a sitting Vice President into a fugitive.

In the summer of 1804, two of America's most eminent statesmen squared off, pistols raised, on a bluff along the Hudson River. Why would two such men risk not only their lives but the stability of the young country they helped forge? 

In War of Two, John Sedgwick explores the long-standing conflict between Founding Father Alexander Hamilton and Vice President Aaron Burr. Matching each other's ambition and skill as lawyers in New York, they later battled for power along political fault lines that would decide—and define—the future of the United States. 

A series of letters between Burr and Hamilton suggests the duel was fought over an unflattering comment made at a dinner party. But another letter, written by Hamilton the night before the event, provides critical insight into his true motivation. It was addressed to former Speaker of the House Theodore Sedgwick, a trusted friend of both men, and the author's own ancestor. 

John Sedgwick suggests that Hamilton saw Burr not merely as a personal rival but as a threat to the nation. It was a fear that would prove justified after Hamilton's death...

INCLUDES COLOR IMAGES AND ILLUSTRATIONS
Praise For War of Two: Alexander Hamilton, Aaron Burr, and the Duel that Stunned the Nation…
Praise for War of Two

"Sedgwick's War of Two, like Chernow's great biography, has depths and details that the musical [Hamilton] cannot match."—Gordon Wood, The New York Review of Books
 
"[A] lively, wide-ranging and immensely readable book. The world of War of Two is often more personal than political, an intimate portrait of Hamilton and Burr as they plunged toward their fatal collision."—The New York Times
 
"John Sedgwick has done a great thing here: he has painted a compelling and original portrait of a defining American rivalry. A story of ambition, conviction, and finally of bloodshed."—Jon Meacham, Pulitzer Prize–winning author of Thomas Jefferson: The Art of Power
 
"In crisp, lively prose, the author presents evenhanded and insightful profiles of two highly intelligent, driven men with substantial flaws and very different characters...[An] entertainingly irreverent account of two consequential men from the dawn of the American republic."—Kirkus Reviews
 
"John Sedgwick rescues the most famous duel in history from musty mythology and gives us a richly textured, spirited, absorbing tale of yearning, rivalry, and pathos. War of Two reads like the Great American Novel—but it's all true."—Evan Thomas, New York Times bestselling author of Being Nixon: A Man Divided
 
"Sedgwick perceptively suggests that Burr's skill at influencing public opinion epitomized for the emerging Republicans what Hamilton's preference for elite governance did for the Federalists: competing versions of democracy."—Publishers Weekly
 
"An explosive historical narrative. With Sedgwick's deft, clever writing, this true story of the dangerous and dramatic world of the Founders becomes as gripping as any novel."—Matthew Pearl, New York Times bestselling author of The Last Bookaneer
 
"The famous duel has been recounted before, but never with such illuminating attention to the layers upon layers of ambition, vanity, talent, honor and pigheadedness that marked the antagonists...A master storyteller."—H. W. Brands, New York Times bestselling author of The Man Who Saved the Union: Ulysses Grant in War and Peace

Berkley, 9781592408528, 480pp.
Publication Date: October 20, 2015
About the Author
John Sedgwick is the bestselling author of thirteen books, including Blood Moon, War of Two, his acclaimed account of the duel between Hamilton and Burr, two novels, and the family memoir In My Blood. A longtime contributor to GQ, Newsweek, Vanity Fair, and The Atlantic, he wrote the first national expose of the exploits of Whitey Bulger in GQ in 1992.
or
Not Currently Available for Direct Purchase