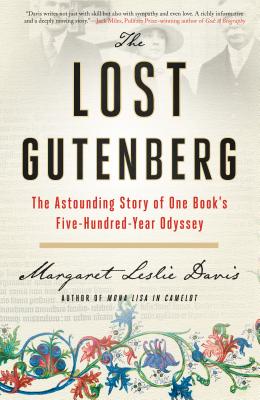 The Lost Gutenberg
The Astounding Story of One Book's Five-Hundred-Year Odyssey
Hardcover

* Individual store prices may vary.
Other Editions of This Title:
Paperback (6/1/2021)
Description
"A lively tale of historical innovation, the thrill of the bibliophile's hunt, greed and betrayal." – The New York Times Book Review

"An addictive and engaging look at the 'competitive, catty and slightly angst-ridden' heart of the world of book collecting." - The Houston Chronicle 

The never-before-told story of one extremely rare copy of the Gutenberg Bible, and its impact on the lives of the fanatical few who were lucky enough to own it.

For rare-book collectors, an original copy of the Gutenberg Bible--of which there are fewer than 50 in existence--represents the ultimate prize. Here, Margaret Leslie Davis recounts five centuries in the life of one copy, from its creation by Johannes Gutenberg, through the hands of monks, an earl, the Worcestershire sauce king, and a nuclear physicist to its ultimate resting place, in a steel vault in Tokyo. Estelle Doheny, the first woman collector to add the book to her library and its last private owner, tipped the Bible onto a trajectory that forever changed our understanding of the first mechanically printed book.

The Lost Gutenberg draws readers into this incredible saga, immersing them in the lust for beauty, prestige, and knowledge that this rarest of books sparked in its owners. Exploring books as objects of obsession across centuries, this is a must-read for history buffs, book collectors, seekers of hidden treasures, and anyone who has ever craved a remarkable book--and its untold stories.
Praise For The Lost Gutenberg: The Astounding Story of One Book's Five-Hundred-Year Odyssey…
"A lively tale of historical innovation, the thrill of the bibliophile's hunt, greed and betrayal."—The New York Times Book Review

Finalist for the Marfield Prize/National Award for Arts Writing
Amazon Editor's Pick for Best Nonfiction

"The remarkable tale of 'Number 45,' one of the finest copies of the Gutenberg Bible in existence… Davis does a fine job telling a fascinating story that touches on the origin of books, the passion of collectors, the unseen world of rare-book dealers, and the lives of the super-rich, past and present. A great read for any book lover."—Kirkus (starred review)

"An addictive and engaging look at the 'competitive, catty and slightly angst-ridden' heart of the world of book collecting…. The Lost Gutenberg reads like a comedy of manners starring the cast of an Ayn Rand novel…. It's improbable and riveting."—Houston Chronicle

"A gripping, well-researched account of the importance of books as cultural artifacts and of one particular work that transformed the world, as well as the lives of those who owned a copy, that will appeal especially to bibliophiles."—Library Journal

"The depth of Davis' research cannot be understated. The writing in this book is straightforward and, at times, even heartbreaking, but outstanding reporting lies at its core.... The Lost Gutenberg pulls readers into a five-century saga, plunging them into the minds of those who desired the Bible and the prestige that came with it. This makes it a book about not only Number 45 and its owners but also a narrative that explores our collective obsession with art, technology, change, and history."—NPR

"A fascinating read for anyone who cares about books."—Star Tribune

"An entertaining and insightful human story of obsession."—Daily Telegraph

"A thrilling page-turner."—Daily Mail

"The Lost Gutenberg has two protagonists: a singularly beautiful copy of the Gutenberg Bible—known as #45—and the California heiress who emerged from scandal to chase it. Along the way, Davis takes in the larger-than-life stories of the aristocrats, libertines, billionaires, and bibliomaniacs who all competed to own this unique piece of literary history. A fascinating exploration of the shifting value we place on rare books, and the shifting wealth and power of those who hunt them."—Michael Blanding, New York Times bestselling author of The Map Thief: The Gripping Story of an Esteemed Rare-Map Dealer Who Made Millions Stealing Priceless Maps

"Bibliophiles love books, and none more than the book collector's dream of dreams, a Gutenberg Bible. Davis tells not just with skill but also with sympathy and even love. A richly informative but finally a deeply moving story."—Jack Miles, Pulitzer Prize-winning author of God: A Biography

"The great protagonist is the book itself, the beautifully preserved Gutenberg 45, its immortality assured through, of all things, a cyclotron scanning its pages, analyzing its ink and paper, as it entered the digital age. The Lost Gutenberg is a spellbinding read, and Margaret Leslie Davis is a damn good storyteller."—Noël Riley Fitch, author of Sylvia Beach: Une américaine à Paris

"Margaret Leslie Davis's The Lost Gutenberg is a fascinating and apt successor to her Mona Lisa in Camelot, for the Gutenberg Bible is to the book arts what the Mona Lisa is to painting—a Holy Grail and epitome of the art it embodies. Davis writes of the succession of owners of a particular copy of Gutenberg's masterpiece, number 45. She gives a haunting and at times heartbreaking account of the way a material object can acquire a mystical resonance and affect different people and lives across centuries."—Victoria Steele, former Brooke Russell Astor Director of Collections, New York Public Library

"This wonderful, elegant story, which reads like a thriller, will delight anyone who loves books, collecting, history, and biography. The Gutenberg Bible was the object of admiration, greed, and speculation, but also of brilliant scientific discoveries. Populated by remarkable and quirky individuals, their passions and tragedies, this superbly researched historical gem is a veritable page-turner."—Diana Kormos Buchwald, Director and General Editor, Einstein Papers Project, The Collected Papers of Albert Einstein, Professor of History, Caltech

"Margaret Leslie Davis has done it again—unearthed fresh information about a cultural icon and turned it into a compelling story that reveals human nature while illuminating a slice of history. In this case her subject is the Gutenberg Bible or, to be more precise, Number 45 of the 48 existing copies of the book. The larger story digs into 500 years of book-collecting and all the love, lust, and drama that can afflict proud possessors."—Suzanne Muchnic, author of Odd Man In: Norton Simon and the Pursuit of Culture and LACMA So Far: A Portrait of a Museum in the Making; former art reporter and art critic, Los Angeles Times 

"The fascinating story of how one Gutenberg Bible traveled through two centuries and how one woman, the legendary Los Angeles book collector Estelle Doheny, pursued, purchased, and cherished it. This tale, written for both ardent bibliophiles and those seeking an engaging historical narrative, includes a sad episode of betrayal, exciting nuclear discoveries, and the arrival of Gutenberg into the digital age."—Alan Jutzi, former Avery Curator of Rare Books, Henry E. Huntington Library

"Davis records the history of this book with enthusiasm and attention to detail."—History Today

"Fascinating.... An engaging analysis of bibliomania which also throws light on commercial and investment history in Britain and America."—Church Times
TarcherPerigee, 9781592408672, 304pp.
Publication Date: March 19, 2019
About the Author
Margaret Leslie Davis is a graduate of Georgetown University and earned her master's in professional writing at the University of Southern California. Her award-winning books have been featured on Good Morning America, and in the London Sunday Times and Vanity Fair. She has appeared on C-SPAN Book TV and the History Channel's Modern Marvels as well as on the Discovery Channel and A&E's Biography. An experienced and sought-after public speaker, she has delivered addresses at many prestigious forums, including the New York Public Library, the White House Historical Association, and the National Gallery of Art.
or
Not Currently Available for Direct Purchase