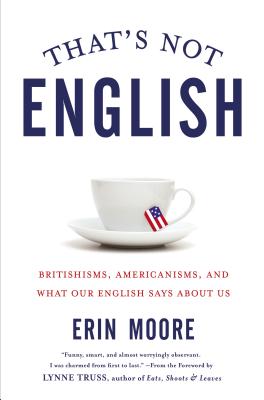 That's Not English
Britishisms, Americanisms, and What Our English Says About Us
Hardcover

* Individual store prices may vary.
Other Editions of This Title:
Digital Audiobook (6/30/2015)
Description
An expat's witty and insightful exploration of English and American cultural differences through the lens of language that will leave readers gobsmacked
In That's Not English, the seemingly superficial differences between British and American English open the door to a deeper exploration of a historic and fascinating cultural divide. In each of the thirty chapters, Erin Moore explains a different word we use that says more about us than we think. For example, "Quite" exposes the tension between English reserve and American enthusiasm; in "Moreish," she addresses our snacking habits. In "Partner," she examines marriage equality; in "Pull," the theme is dating and sex; "Cheers" is about drinking; and "Knackered" covers how we raise our kids. The result is a cultural history in miniature and an expatriate's survival guide.
 
American by birth, Moore is a former book editor who specialized in spotting British books—including Eats, Shoots & Leaves—for the US market. She's spent the last seven years living in England with her Anglo American husband and a small daughter with an English accent. That's Not English is the perfect companion for modern Anglophiles and the ten million British and American travelers who visit one another's countries each year.
Praise For That's Not English: Britishisms, Americanisms, and What Our English Says About Us…
"As many of us know, straddling the Atlantic can be quite uncomfortable—and it doesn't help that the word 'quite' doesn't always mean what you think it means.  This is a brilliant guide to the revealing differences between two branches of English….As an English person I will say, 'Oh, jolly well done,' but I'd like to add 'Good job!'"
–From the foreword by Lynne Truss, author of Eats, Shoots & Leaves
 
"I'm mad about this book! I don't mean 'angry'  in the American sense, but Britishly 'enthusiastic, gobsmacked.' Much has been written about the language barrier between Britspeak and Americanspeak, but, more than any other explorer, Erin Moore puts a human face on the subject."
–Richard Lederer, author of Anguished English
 
"The ocean that divides England and America is awash with linguistic wreckage and cultural tumult. But Erin Moore's study of these infested waters is serene, assured and hugely entertaining. They should hand her book out at border control." 
–Simon Garfield, author of Just My Type 

"Moore manages to create a text that is eminently readable, clever (in the sincerely-intended American sense) and thought-provoking, gently breaking down some of the cultural stereotyping that plagues both Americans and British." 
—Publishers Weekly
Avery, 9781592408856, 240pp.
Publication Date: March 24, 2015
About the Author
Erin Moore grew up in Key West, Florida, and is a graduate of Harvard who also attended King's College, London. She lives in London.
or
Not Currently Available for Direct Purchase