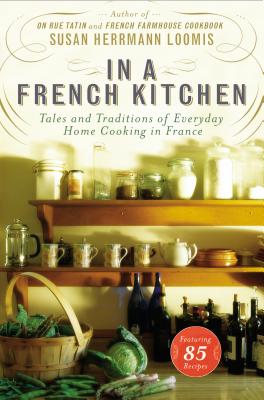 In a French Kitchen
Tales and Traditions of Everyday Home Cooking in France
Hardcover

* Individual store prices may vary.
Other Editions of This Title:
Digital Audiobook (6/15/2015)
Paperback (7/12/2016)
Description
A delightful celebration of French life and the cooks who turn even the simplest meals into an occasion
 
Even before Susan Herrmann Loomis wrote her now-classic memoir, On Rue Tatin, American readers have been compelled by books about the French's ease with cooking. With In a French Kitchen, Loomis—an expat who long ago traded her American grocery store for a bustling French farmer's market—demystifies in lively prose the seemingly effortless je ne sais quoi behind a simple French meal.
 
One by one, readers are invited to meet the busy people of Louviers and surrounding villages and towns of Loomis's adopted home, from runway-chic Edith, who has zero passion for cooking—but a love of food that inspires her to whip up an array of mouthwatering dishes—to Nathalie, who becomes misty-eyed as she talks about her mother's Breton cooking, then goes on to reproduce it. Through friends and neighbors like these, Loomis learns that delicious, even decadent meals don't have to be complicated.
 
Are French cooks better organized when planning and shopping? Do they have a greater ability to improvise with whatever they have on hand when unexpected guests arrive? The answer to both is: Yes. But they also have an innate understanding of food and cooking, are instinctively knowledgeable about seasonal produce, and understand what combination of simple ingredients will bring out the best of their gardens or local markets.
 
Thankfully for American readers, In a French Kitchen shares the everyday French tips, secrets, and eighty-five recipes that allow them to turn every meal into a sumptuous occasion.
Praise For In a French Kitchen: Tales and Traditions of Everyday Home Cooking in France…
Advance Praise for In a French Kitchen:
"In a French Kitchen is an enticing mix of recipes, stories, and astuces (tips) Susan shares from her sun-filled kitchen in France. Few people understand French cuisine as deeply as Susan, and if you want to experience honest, French cooking - without a lot of fuss, but with great results - you'll as happy as I am to have In a French Kitchen as a companion in your kitchen."
—David Lebovitz, author of My Paris Kitchen and The Sweet Life in Paris
 
"With a clear, distinctive, emphatic, and personal style, Susan captures the essence of the French home cook: the search for the finest ingredients, one's personal connections to purveyors, superior organization, the creation of a comfortable repertoire of dishes, the joy as well as the triumph of putting a meal on the table."  
—Patricia Wells, author of 365 Days in France and founder of At Home with Patricia Wells 
 
"From her long experience cooking and eating with her French friends and compatriots, Susan has extracted the essence of what makes French home cooking so special. In this book she distills those lessons with warmth, clarity, and lovely recipes, so your kitchen can be French too!"
—Clotilde Dusoulier, author of The French Market Cookbook and Edible French
 
"This is the best trip to France you'll ever have -- walking through Louviers with Susan Loomis as your appreciative, ever-hungry guide. You'll stop in kitchen after kitchen to meet her friends and taste their glorious home cooking, you'll get a supermarket tour with special attention to the candy aisle, you'll find out why she's still dazzled by the French art of using up leftovers, and why you'll never see her in public sopping up sauce with a piece of bread. And when it's over, you'll head home with a string bag full of Susan's incomparable recipes."
—Laura Shapiro, author of Something from the Oven

"Susan Herrmann Loomis's In A French Kitchen makes me want to move right back to France, where people expect to eat well, love to eat well, and know how to do it. Susan has always been one of my favorite food writers; sharing her wisdom comes naturally to her, and I love being drawn into her life. This book will inspire us to adapt at least a little bit of the lifestyle she describes with such heartfelt eloquence. You will want to make every recipe in the book, and you'll be able to do so with little effort, just like Susan and her French friends."
—Martha Rose Shulman, author of The Simple Art of Vegetarian Cooking
 
​"​In this charming memoir cum superb cookbook, Susan Hermann Loomis gets right to the heart of how the French really cook with recipes, tips and techniques of her own and from the friends she's made during twenty years of living in France. ​Deliciously honest, it's as delightful to read as it is to cook from."
​—Alexander Lobrano, author of Hungry for Paris and Hungry for France
 
"There is wisdom in this book, expressed in stories and anecdotes, in advice, opinions, recipes, and shopping lists, and most of all in Susan Loomis's warmly engaging yet always sternly authoritative writing. In a French Kitchen is a crash course in cooking and living well."
– Luke Barr, author of Provence
 
"With practical tips, delicious recipes, and real stories from real people, In a French Kitchen is a wonderful guide for producing honest, simple, and chic meals, à la française. Susan Herrmann Loomis has revolutionized the way I cook for my family!"
—Ann Mah, author of Mastering the Art of French Eating
 
"A warm invitation to the French table... a tempting and helpful guide to delectable food."
—Kirkus Reviews


Praise for Susan Herrmann Loomis 
"Where many American writers merely love France, Susan Loomis knows it: its smells and people and manners. . . . She is as natural a writer as she is a chef."
—Adam Gopnik, author of Paris to the Moon
Avery, 9781592408863, 320pp.
Publication Date: June 16, 2015
About the Author
Susan Herrmann Loomis is an award-winning journalist, author, professionally trained chef, and proprietor of a cooking school, On Rue Tatin. She is the author of twelve books, including French Farmhouse Cookbook and her memoir, On Rue Tatin: Living and Cooking in a French Town, which was named the IACP's Best Literary Food Book in 2002. She lives with her two children in Louviers, where she moved nearly twenty years ago.
or
Not Currently Available for Direct Purchase