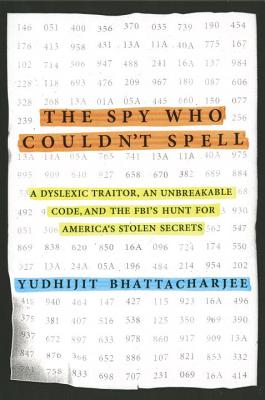 The Spy Who Couldn't Spell (Hardcover)
A Dyslexic Traitor, an Unbreakable Code, and the FBI's Hunt for America's Stolen Secrets
Berkley, 9781592409006, 304pp.
Publication Date: November 1, 2016
Other Editions of This Title:
Digital Audiobook (10/31/2016)
* Individual store prices may vary.
Description
A NEW YORK TIMES BESTSELLER

The thrilling, true-life account of the FBI's hunt for the ingenious traitor Brian Regan—known as the Spy Who Couldn't Spell.
 
Before Edward Snowden's infamous data breach, the largest theft of government secrets was committed by an ingenious traitor whose intricate espionage scheme and complex system of coded messages were made even more baffling by his dyslexia. His name is Brian Regan, but he came to be known as The Spy Who Couldn't Spell.
 
In December of 2000, FBI Special Agent Steven Carr of the bureau's Washington, D.C., office received a package from FBI New York: a series of coded letters from an anonymous sender to the Libyan consulate, offering to sell classified United States intelligence. The offer, and the threat, were all too real. A self-proclaimed CIA analyst with top secret clearance had information about U.S. reconnaissance satellites, air defense systems, weapons depots, munitions factories, and underground bunkers throughout the Middle East.
 
Rooting out the traitor would not be easy, but certain clues suggested a government agent with a military background, a family, and a dire need for money. Leading a diligent team of investigators and code breakers, Carr spent years hunting down a dangerous spy and his cache of stolen secrets.
 
In this fast-paced true-life spy thriller, Yudhijit Bhattacharjee reveals how the FBI unraveled Regan's strange web of codes to build a case against a man who nearly collapsed America's military security.

INCLUDES PHOTOGRAPHS
About the Author
Yudhijit Bhattacharjee is an award-winning writer whose features and essays on espionage, cybercrime, science and medicine have appeared in The New Yorker, The New York Times Magazine, National Geographic, Wired and other U.S. magazines. Yudhijit spent 11 years as a staff writer at the weekly journal Science, writing about neuroscience, astronomy and a variety of other topics in research and science policy. His work has been anthologized in the Best American Science and Nature Writing series. Yudhijit has an undergraduate degree from the Indian Institute of Technology, Bombay, and a master's in journalism from The Ohio State University. He lives in a suburb of Washington, D.C., with his wife, his two children and a big red dog.
Praise For The Spy Who Couldn't Spell: A Dyslexic Traitor, an Unbreakable Code, and the FBI's Hunt for America's Stolen Secrets…
Praise for The Spy Who Couldn't Spell

"An excellent, highly engrossing account of the search for a man who was cunning, avaricious—and a dreadful speller....It is a pleasure to be in the hands of a writer who so skillfully weaves his assiduous research into polished prose....The Spy Who Couldn't Spell presents an estimable, thoroughly enjoyable overview of espionage in the digital age."—The Wall Street Journal

"Yudhijit Bhattacharjee has brought to light an intriguing tale of espionage and betrayal—a tale filled with twists and turns and powerful revelations."—David Grann, New York Times Bestselling Author of The Lost City of Z: A Tale of Deadly Obsession in the Amazon

"Brian Regan was an all too human spy, a trailblazer in the digital age—a mole who managed to squirrel away thousands of classified documents—and a brilliant, dyslexic cryptologist who was caught in part because he couldn't spell. Yudhijit Bhattacharjee has penetrated the FBI and other parts of the intelligence community to write this fantastic true story—a captivating, gracefully-written narrative that is destined to become a classic in the history of code-breaking."—Kai Bird, Pulitzer Prize-winning Author of The Good Spy: The Life and Death of Robert Ames
 
"The cat-and-mouse espionage tale at the heart of The Spy Who Couldn't Spell is so strange and so riveting that you can't help but marvel at every turn. Enriched by years of painstaking reporting and a keen eye for detail, Yudhijit Bhattacharjee's true-life page turner explores not only the complexities of modern spycraft, but also the ways in which humans can lose their moral bearings. This is a book to be savored as an expertly crafted thriller, and pondered as a nuanced meditation on the banality of evil."—Brendan I. Koerner, Author of The Skies Belong to Us and Now the Hell Will Start

"A riveting, fast-paced account of how modern computer forensics and cryptography, combined with old-fashioned detective work, caught a most unusual spy. The Spy Who Couldn't Spell is a real page-turner."—David Wise, Author of Tiger Trap: America's Secret Spy War with China

"The Spy Who Couldn't Spell is a propulsive read about an insider whose betrayals we'd do well to remember. Yudhijit Bhattacharjee combines his talent as a top science writer with a gimlet eye for intrigue to sculpt a rich, suspenseful narrative."—David Willman, Pulitzer Prize-winning Investigative Reporter for the Los Angeles Times and Author of The Mirage Man: Bruce Ivins, the Anthrax Attacks, and America's Rush to War

"Like the FX show The Americans in a contemporary setting, or a John le Carré novel, The Spy Who Couldn't Spell is the dramatic nonfiction story of the pursuit, capture and conviction of United States spy Brian Patrick Regan....Alongside news of WikiLeaks, Snowden disclosures, the Panama Papers, The Spy Who Couldn't Spell is as real as it gets. Cryptography, hard drive scrubbing, server spoor tracking, old-school surveillance tails and wiretaps, psychological profiling and high-definition courtroom drama: Bhattacharjee tells a story that would make a kickass movie." —ShelfAwareness

"Readers...will thoroughly enjoy this fast-moving account of a failed spy who, despite his incompetence, easily filched thousands of secrets."—Publishers Weekly

"The author offers a compellingly seedy portrait of Regan, motivated to contemplate treason due to debt, career stagnation, and marital malaise....A well-written...tale of thwarted amateur treason underscoring the disturbing vulnerability of today's intelligence systems."—Kirkus Reviews
 
"In his first book, Bhattacharjee...will leave readers wondering whether classified information from the U.S. government is always vulnerable to being sold, for the right price....Readers interested in spy thrillers, cybercryptology, and the history of U.S. espionage will find this book to be both entertaining and helpful in understanding today's complex landscape of leaked classified information."—Booklist

"What distinguishes this real-world chronicle from similar others...is the author's humane perspective...Recommended for spycraft buffs and general enthusiasts of U.S. intelligence operations and psychosocial factors behind espionage."—Library Journal (starred review)

"A gripping tale and a powerful case for spell check."—Esquire
Coverage from NPR