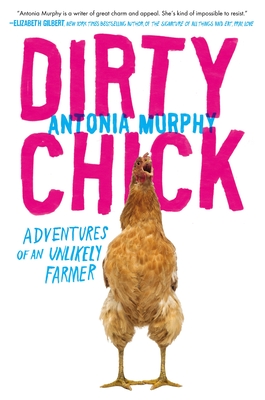 Dirty Chick
Adventures of an Unlikely Farmer
Hardcover

* Individual store prices may vary.
Other Editions of This Title:
MP3 CD (5/31/2016)
Library Binding, Large Print (4/1/2015)
Description
"One month into our stay, we'd managed to dispatch most of our charges. We executed the chickens. One of the cats disappeared, clearly disgusted with our urban ways. And Lucky [the cow] was escaping almost daily. It seemed we didn't have much of a talent for farming. And we still had eleven months to go."

Antonia Murphy, you might say, is an unlikely farmer. Born and bred in San Francisco, she spent much of her life as a liberal urban cliché, and her interactions with the animal kingdom rarely extended past dinner.

But then she became a mother. And when her eldest son was born with a rare, mysterious genetic condition, she and her husband, Peter, decided it was time to slow down and find a supportive community. So the Murphys moved to Purua, New Zealand—a rural area where most residents maintained private farms, complete with chickens, goats, and (this being New Zealand)  sheep. The result was a comic disaster, and when one day their son had a medical crisis, it was also a little bit terrifying.

Dirty Chick chronicles Antonia's first year of life as an artisan farmer. Having bought into the myth that farming is a peaceful, fulfilling endeavor that allows one to commune with nature and live the way humans were meant to live, Antonia soon realized  that the reality is far dirtier and way more disgusting than she ever imagined.  Among the things she learned the hard way: Cows are prone to a number of serious bowel ailments, goat mating involves an astounding amount of urine, and roosters are complete and unredeemable assholes.

But for all its traumas, Antonia quickly embraced farm life, getting drunk on homemade wine (it doesn't cause hangovers!), making cheese (except for the cat hair, it's a tremendously satisfying hobby), and raising a baby lamb (which was addictively cute until it grew into a sheep). Along the way, she met locals as colorful as the New Zealand countryside, including a seasoned farmer who took a dim view of Antonia's novice attempts, a Maori man so handy he could survive a zombie apocalypse, and a woman proficient in sculpting alpaca heads made from their own wool.'

Part family drama, part cultural study, and part cautionary tale, Dirty Chick will leave you laughing, cringing, and rooting for an unconventional heroine.
Praise For Dirty Chick: Adventures of an Unlikely Farmer…
"Antonia Murphy is a writer of great charm and appeal. She's kind of impossible to resist."
—Elizabeth Gilbert, New York Times bestselling author of The Signature of All Things and Eat, Pray, Love
 
"Dirty Chick has it all. And by all I mean homemade booze, arson, a heavy hand of insanity and a magic place called Love Mountain. It's the dirtiest, most delightful book I've ever read. I f*cking loved it, laughed my ass off, and got so grossed out I couldn't wait to go back and visit Antonia and her very brave family on her raucous New Zealand farm. Dirty Chick will love you long time."
—Laurie Notaro, New York Times bestselling author of The Idiot Girls' Action Adventure Club and The Potty Mouth at the Table
 
"Dirty Chick perfectly captures the chaotic balance of hilarity, hardship, triumph, tragedy, romance, pornography and general grossness that makes up farm life. In this crowded world of hipster farmers, Antonia Murphy proves herself to be the real thing."
—Josh Kilmer-Purcell, bestselling author of I Am Not Myself These Days and The Bucolic Plague and star of The Fabulous Beekman Boys
 
"Way down under in the land of hobbits, a family of transplanted Californians do battle with monsters worse than mere dragons – lusty goats, a crazed rooster, and alpacas that spit green gobs of goo. Nearly every page of Antonia Murphy's big, boisterous, hilarious tale of how not to start a farm in New Zealand bristles with jaw-droppingly outrageous livestock encounters and visceral details that would have made Rabelais blush. Wallowing in this filthy, funny, and unexpectedly sweet tale of self-inflected misery is the perfect cure for the next time you're feeling too sorry for yourself."
—Bob Tarte, author of Enslaved by Ducks and Kitty Cornered
 
"Just when I thought motherhood was the toughest challenge there is, along comes Antonia Murphy, doing the Mommy thing with goats, cows and freaking alpacas. Her hilarious exploits with chickens, lambs and a single amorous rooster make me grateful there's no goat colostrum in my sippy cup. Trigger warning: Dirty Chick might make you laugh out loud. Proceed with care."
—Stefanie Wilder-Taylor, author of Sippy Cups Are Not for Chardonnay and Naptime Is the New Happy Hour, and go-to parenting expert for The Today Show
 
"Filled with sass, love, high energy, foibles, and the delicious power of a rich and supportive community, this book is raw, rugged and alive in a personal, humanistic way. Dirty Chick is a great read for any DIY farmer wannabe and anyone who wants to take a peek at how dreams and reality blur when you actually take the risk to jump into your passion full speed ahead. Three cheers and a big cloacal kiss for Antonia! May all your cheeses bloom, without poil de chat!"
—Ricki Carroll, A.K.A. "The Cheese Queen," author of Home Cheese Making: Recipes for 75 Homemade Cheeses
 
"Murphy's book presents an unsentimental, at times unapologetically graphic, treatment of farm life. At the same time, it offers a comic yet thoroughly wise perspective on what it means to start over in a new country and live close to a natural world that is anything but romantic. Warm, funny and touching."
—Kirkus
 
In sparkling prose, Antonia Murphy takes us along on one family's foray into the world of small farming. By turns entertaining and heart wrenching, her story is so captivating that I neglected my own chores and children to follow hers on their wild ride. Farming and parenting are both dirty work—exhausting, satisfying, rich with all kinds of meaning—and Murphy captures life in all its gory and glorious complication. Dirty Chick is an exceptional story of Murphy and her crew finding their place in the world.
—Margaret Hathaway, author of The Year of the Goat and Living With Goats
— Advance Praise for Antonia Murphy
Avery, 9781592409051, 272pp.
Publication Date: January 22, 2015
About the Author
Raised in San Francisco, Antonia Murphy is a graduate of Columbia University who has lived and worked in cities from New York to Rome, Villefranche-sur-Mer, France, to Invercargill, New Zealand. She now lives and writes in Purua, New Zealand, with her husband and their two children.
or
Not Currently Available for Direct Purchase