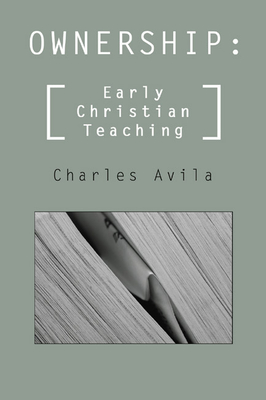 Ownership
Early Christian Teaching
Paperback

* Individual store prices may vary.
Description
Charles Avila's important retrieval of patristic texts reminds us that the 'option for the poor' is not a new theological fad, but an ancient Christian legacy. Joe Holland, Center of Concern, Washington, D.C. Charles Avila has provided an important recovery of the patristic teachings on wealth and poverty and has shown that a Christian theology of stewardship must be rooted in an ethic of economic justice. Rosemary Radford Ruether, Carpenter Professor of Feminist Theology, Pacific School of Religion This book is a rich anthology of a stream of Christianity which offers a striking vision of what the Redemption ought to imply normatively for a Christian-inspired organization of economic and social life. Prophetic reminders of basic truths about wealth and poverty are never out of date. Denis Goulet, Professor Emeritus, University of Notre Dame At long last, here is a book from a Christian and Asian voice of the Third World who rediscovers and re-echoes afresh for our times the prophetic, undiluted, and revolutionary patristic thought on property - a well-kept secret until now - a voice that speaks with a 'bite' to the rich and powerful on behalf of the millions of landless, propertyless victims of injustice. Scholarly yet lucid, disturbing but challenging, truly 'good news' to the poor, this book is the fruit of lived experience with the peasants in the Philippines by a self-exiled oppositionist to the Marcos regime. Vitaliano R. Gorospe, S.J., Department of Theology, Ateneo de Manila University, Manila, Philippines This book will do a great amount of good for people who are searching into this question of property all across the world. It should be read in every sociology as well as every economics class. Msgr. John J. Egan, Archdiocese of Chicago Like pacifism, the early church's teaching about poverty has been too long neglected or submerged. I found this exposition of the Church fathers very useful. James R. Jennings, Campaign for Human Development, United States Catholic Conference.
Wipf & Stock Publishers, 9781592447282, 236pp.
Publication Date: June 1, 2004