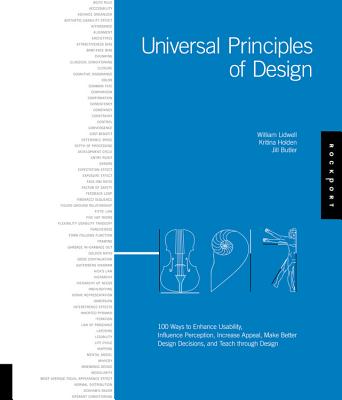 Universal Principles of Design (Hardcover)
100 Ways to Enhance Usability, Influence Perception, Increase Appeal, Make Better Design Decisions, and Teach Through Design
Rockport Publishers, 9781592530076, 216pp.
Publication Date: October 1, 2003
* Individual store prices may vary.
Description
Whether a marketing campaign or a museum exhibit, a video game or a complex control system, the design we see is the culmination of many concepts and practices brought together from a variety of disciplines. Because no one can be an expert on everything, designers have always had to scramble to find the information and know-how required to make a design work - until now.
Universal Principles of Design is the first cross-disciplinary reference of design. Richly illustrated and easy to navigate, this book pairs clear explanations of the design concepts featured with visual examples of those concepts applied in practice. From the 80/20 rule to chunking, from baby-face bias to Ockham's razor, and from self-similarity to storytelling, 100 design concepts are defined and illustrated for readers to expand their knowledge.
This landmark reference will become the standard for designers, engineers, architects, and students who seek to broaden and improve their design expertise.
About the Author
William Lidwell is the Director of Design at Stuff Creators Design in Houston, Texas. He is author of the best-selling design book, Universal Principles of Design, which has been translated into 12+ languages, and Deconstructing Product Design, a social deconstruction of 100 classic products. He is the lecturer of two video series on design: "How Colors Affect You: What Science Reveals" available from The Great Courses, and "The Science of Logo Design," available from Lynda.com.
Kritina Holden is a Human Factors specialist at Lockheed Martin–Space Operations and NASA, where she is responsible for performing applied research on HCI topics for the space environment. Formerly a Lead Usability Engineer with BMC Software, Kritina is author of numerous guideline texts in the areas of human-computer interaction and human performance.
Jill Butler is the founder and president of Stuff Creators Design Studio. She and her staff help clients explain concepts and express themselves through graphics, interaction design, web site design, printed products, and custom-designed 3-D objects. She has worked as a print designer, information designer, and multimedia designer for herself and various companies in the Houston area. Jill served as a lecturer and taught design-related classes at the University of Houston and Kingwood Community College.