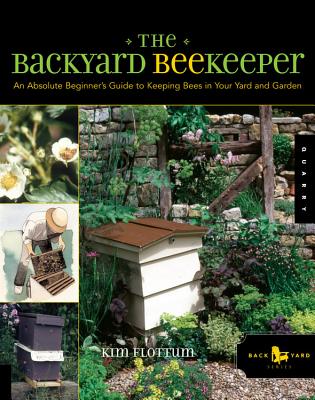 The Backyard Beekeeper: An Absolute Beginner's Guide to Keeping Bees in Your Yard and Garden (Paperback)
An Absolute Beginner's Guide to Keeping Bees in Your Yard and Garden
Quarry Books, 9781592531189, 168pp.
Publication Date: May 1, 2005
* Individual store prices may vary.
or
Not Currently Available for Direct Purchase
Description
This book isnAEt only a guide to beekeeping or a honey cookbook; itAEs both. No other book on the market provides an in-depth review of beekeeping and what honey is good for and how to use it.
Beautifully illustrated, The Backyard Beekeeper is perfect for the health conscious person who wants to sweeten up their life by saying no to processed sugars and yes, to eating organic, natural healthy food.
This book is the complete "honey bee" resource with general information on bees, a how-to guide to the art of bee keeping and how to set up, care for and harvest your own hives, as well as tons of fun facts and projects that are bee related. The second half of the book is the complete guide to honey. It reviews the different types of honey, health effects as well as provides 100s of ideas and recipes for using honey in recipes, cosmetically in facemasks and shampoos, and for medicinal uses.
About the Author
Kim Flottum brings a background of more than a decade of plant science, honey bee research, and basic farming to his thirty years as the editor of Bee Culture magazine where his main occupation is finding the answers to the multitude of questions that beginning, intermediate, and even advanced and experienced beekeepers bring to the table. He teaches beginning and advanced beekeeping courses, travels extensively to educate and lecture, and contributes to a variety of other publications on the basics of honey bees and beekeeping biology, the business of bees and pollination, producing and using varietal honeys, and a host of other subjects. His books, magazine articles, interviews, and blogs are widely read for both their fundamental and advanced contribution to beekeeping knowledge. His magazine platform gives voice to his social commentary on topics ranging from genetically modified foods to pesticide abuse to both good and bad government regulations in the industry. He is beekeeping's leading advocate for fundamental honey bee safety including insuring excellent honey bee health, providing extraordinary forage, and minimizing the use of agricultural pesticides.
Advertisement