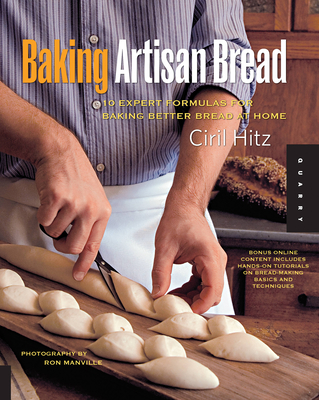 Baking Artisan Bread (Paperback)
10 Expert Formulas for Baking Better Bread at Home
Quarry Books, 9781592534531, 176pp.
Publication Date: October 1, 2008
* Individual store prices may vary.
Description
While "bread" once implied a simple, sliced white loaf from the supermarket, consumers have begun to consider the product in a more sophisticated light. Bread enthusiasts are more aware of the diverse array of high-quality breads than ever before and are seeking out handmade artisan products at local farmers' markets, organic grocery stores, specialty shops�¿even the Internet. Baking Artisan Bread will show that finding these specialty breads is as easy as looking in your own kitchen!
Baking Artisan Bread provides a simplified, formula-based approach to baking bread at home, making the mixing, the rising, and the baking itself more approachable and less intimidating. With step-by-step full-color process shots and clear directions, chef Ciril Hitz will show you how with just 10 formulas you can create more than 40 different products��how's that for streamlined?
About the Author
Ciril Hitz is the Department Chair for the International Baking and Pastry Institute at Johnson & WalesUniversity in Providence, Rhode Island. He graduated from the Rhode Island School of Design, after which he returned to his native Switzerland and completed a three-year apprenticeship as a Pastry Chef/Chocolatier. He was first introduced to bread baking while in Europe, which laid the foundation for the skills that led him to where he is today. Hitz has been recognized nationally and internationally with numerous awards and accomplishments. He was selected as a Top Ten Pastry Chef in America in both 2007 and 2008 by Pastry Art & Design magazine. In 2004 he competed in the National Bread and Pastry Team Championship, winning the overall team Gold Medal as well as all individual bread awards. He was a member of the Bread Bakers Guild Team USA that competed at the 2002 Coupe du Monde de la Boulangerie in Paris, France, where the team captured the silver medal. He has been a guest instructor and expert at many national and international culinary events and schools and serves on the Advisory Board of the Bread Bakers Guild of America. Ciril Hitz is frequently seen on The Food Network and has been featured on the NBC's The Today Show. His work has graced the pages of numerous magazines and the interiors of exhibition halls and museums, including COPIA in Napa, California. He is the producer of his own line of educational DVDs. For more information on his work, visit www.breadhitz.com.