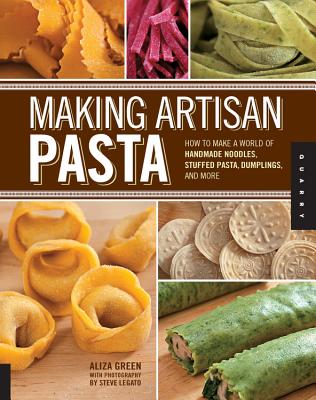 Making Artisan Pasta (Paperback)
How to Make a World of Handmade Noodles, Stuffed Pasta, Dumplings, and More
Quarry Books, 9781592537327, 176pp.
Publication Date: January 1, 2012
* Individual store prices may vary.
Description
Learn how to use the best ingredients and simple, classic techniques to make fresh, homemade pasta in your own kitchen with Making Artisan Pasta. Calling for just the simplest ingredients and a handful of unique kitchen tools, making pasta at home has never been easier, more fun, or more delicious.
Inside, you'll find:
Recipes for pasta doughs made completely from scratch, with such delicious ingredients as buckwheat and whole wheat flour, roasted red pepper, asparagus, and even squid ink and chocolate
Fully illustrated step-by-step instructions for rolling, shaping, and stuffing dough for gnocchi, lasagna, cannelloni, pappardelle, tagliatelle, ravioli, and dozens of other styles of pasta
Detailed instructions on how to make the ultimate in pasta: hand-stretched dough
Chinese pot stickers, Polish pierogi, Turkish manti, and other delectable pastas from beyond its traditional Italian borders
Artisan tips to help anyone, from novice to experienced, make unforgettable pasta
Through author and chef Aliza Green's pasta expertise and encyclopedic knowledge of all things culinary, plus hundreds of gorgeous photos by acclaimed food photographer Steve Legato, you'll never look at the supermarket pasta aisle the same way again.

Making Artisan Pasta is on Cooking Light's Top 100 Cookbooks of the Last 25 Years list for Best Technique and Equipment.
About the Author
Aliza Green is an award-winning Philadelphia-based author, journalist, and influential chef whose books include The Butcher's Apprentice, Making Artisan Pasta (Quarry Books, 2012),The Fishmonger's Apprentice (Quarry Books, 2010), Starting with Ingredients: Baking (Running Press, 2008), Starting with Ingredients (Running Press, 2006), four perennially popular Field Guides to food (Quirk, 2004–2007), Beans: More than 200 Delicious, Wholesome Recipes from Around the World (Running Press, 2004), and successful collaborations with renowned chefs Guillermo Pernot and Georges Perrier. A former food columnist for the Philadelphia Inquirer, Philadelphia Daily News, and Cooking Light magazine, Green is known for her encyclopedic knowledge of every possible ingredient, its history, culture, and use in the kitchen and bakery and for her lively story-telling. Green also leads culinary tours. Green's books have garnered high praise from critics, readers, and culinary professionals alike, including a James Beard award for "Best Single-Subject Cookbook" in 2001 for Ceviche!: Seafood, Salads, and Cocktails with a Latino Twist (Running Press, 2001), which she co-authored with Chef Guillermo Pernot. For more information about Aliza's books and tours or to send her a message, visit her website at www.alizagreen.com.
Steve Legato is a freelance photographer specializing in food, restaurant industry, cookbooks and advertising. His work has been featured in Art Culinaire, The New York Times, Food and Wine, Wine Spectator, Food Arts, GQ, Departures, Wine & Spirits, Travel & Leisure, Philadelphia Magazine, Delaware Today, New Jersey Monthly and Main Line Today. He resides just outside of Philadelphia, PA. Visit his website at http://www.stevelegato.com.
Cesare Casella is an Italian chef, restaurateur, writer, consultant, and educator. He is Dean of Italian Studies at the International Culinary Center in New York City, which is also home to The French Culinary Institute. He is also Chief of DNA, The Department of Nourishment Arts® at The Center for Discovery where he works to raise awareness about healthy eating for children and adults with developmental disabilities. He is the founder of some of New York's best-loved Italian restaurants, including Beppe and Maremma.
Praise For Making Artisan Pasta: How to Make a World of Handmade Noodles, Stuffed Pasta, Dumplings, and More…
"James Beard Award winner Green teams up again with photographer Legato (after The Fishmonger's Apprentice) to produce a beautifully photographed directory on how to make all types of pasta in your own kitchen, with just a few kitchen tools. And don't think only of Italian—there are a few representative recipes from other countries, such as pot stickers, pierogi, and udon noodles. Recipes vary by shape, flour type, and flavoring. By following the easy, step-by-step instructions and hundreds of photographs, readers will be inspired to make their own delicious creations. The book contains many useful extras such as nutrition information, resources, and a glossary, but those who want to serve a homemade sauce along with their pasta fresca may need to consult another resource. VERDICT: This is a terrific choice for any library as it will be useful for both experts and novices alike. Mangia!"—Library Journal