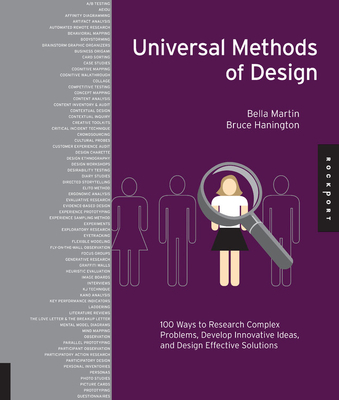 Universal Methods of Design (Hardcover)
100 Ways to Research Complex Problems, Develop Innovative Ideas, and Design Effective Solutions
Rockport Publishers, 9781592537563, 208pp.
Publication Date: February 1, 2012
* Individual store prices may vary.
Description
This comprehensive reference provides a thorough and critical presentation of 100 research methods, synthesis/analysis techniques, and research deliverables for human centered design, delivered in a concise and accessible format perfect for designers, educators, and students.
 
Universal Methods of Design serves as an invaluable compendium of methods that can be easily referenced and used by cross-disciplinary teams in nearly any design project.
 
Methods and techniques are organized alphabetically for ongoing, quick reference. Each method is presented in a two-page format. The left-hand page contains a concise description of the method, accompanied by references for further reading. On the right-hand page, images and cases studies for each method are presented visually. The relevant phases for design application are highlighted as numbered icons along the right side of the page, from phases 1 (planning) through 5 (launch and monitor).

Build more meaningful products with these methods and more: A/B Testing, Affinity Diagramming, Behavioral Mapping, Bodystorming, Contextual Design, Critical Incident Technique, Directed Storytelling, Flexible Modeling, Image Boards, Graffiti Walls, Heuristic Evaluation, Parallel Prototyping, Simulation Exercises, Touchstone Tours, and Weighted Matrix. 

This essential guide:
Dismantles the myth that user research methods are complicated, expensive, and time-consuming
Creates a shared meaning for cross-disciplinary design teams
Illustrates methods with compelling visualizations and case studies
Characterizes each method at a glance
Indicates when methods are best employed to help prioritize appropriate design research strategies
Universal Methods of Design is an essential resource for designers of all levels and specializations.
About the Author
Bruce Hanington is the co-author of the best-selling Universal Methods of Design and an associate professor, director of graduate studies, and former program chair of industrial design in the School of Design at Carnegie Mellon University in Pittsburgh, Pennsylvania. He has dedicated his teaching and research to methods and practices for human-centered design, with an emphasis on design ethnography, participatory design, and the meaning of form in context. He has consulted on design projects with GE Appliance and Johnson and Johnson, and his work has been published in Design Issues, The Design Journal, and Interactions, with chapters in Designing Inclusive Futures and Design and Emotion: The Experience of Everyday Things.
Bella Martin, co-author of the best-selling Universal Methods of Design, is a design practitioner and independent consultant in Atlanta, Georgia, where she brings her expertise for design research methods to companies who are new to user-centered design, but eager to give their users a voice in the design process. She holds a Master of Design in Communication Planning and Information Design from Carnegie Mellon University, where she first began her ongoing work in visualizing user-centered research methods.
Praise For Universal Methods of Design: 100 Ways to Research Complex Problems, Develop Innovative Ideas, and Design Effective Solutions…
"Universal Methods of Design is an immensely useful survey of research and design methods used by today's top practitioners, and will serve as a crucial reference for any designer grappling with really big problems. This book has a place on every designer's bookshelf, including yours!" 
- David Sherwin, Principal Designer at frog and author of "Creative Workshop: 80 Challenges to Sharpen Your Design Skills"
"Universal Methods of Design is a landmark method book for the field of design. This tidy text compiles and summarizes 100 of the most widely applicable and effective methods of design—research, analysis, and ideation—the methods that every graduate of a design program should know, and every professional designer should employ. Methods are concisely presented, accompanied by information about the origin of the technique, key research supporting the method, and visual examples. Want to know about Card Sorting, or the Elito Method? What about Think-Aloud Protocols? This book has them all and more in readily digestible form. The authors have taken away our excuse for not using the right method for the job, and in so doing have elevated its readers and the field of design. UMOD is an essential resource for designers of all levels and specializations, and should be one of the go-to reference tools found in every designer's toolbox."
- William Lidwell, author of "Universal Principles of Design," Lecturer of Industrial Design, University of Houston