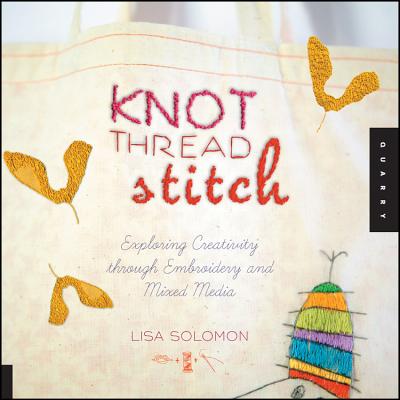 Knot Thread Stitch: Exploring Creativity Through Embroidery and Mixed Media (Paperback)
Exploring Creativity Through Embroidery and Mixed Media
Quarry, 9781592537723, 144pp.
Publication Date: July 1, 2012
* Individual store prices may vary.
or
Not Currently Available for Direct Purchase
Description
Knot Thread Stitch presents a modern, experimental, and creative approach to thread and embroidery projects. You'll find fun and surprising project ideas, a unique artistic approach, and uncoventional mixed-media materials such as stamps, paint, sequins, paper, and shrinky dinks. These projects are designed to be quick, fun, abstract, and creative, and many offer clever ideas for personal customization. With easy-to-follow steps and project variations, this book also includes project contributions and embroidery patterns from a long and stellar list of renowned artists and bloggers, including Lisa Congdon, Camilla Engman, Heather Smith Jones, and Amy Karol, just to name a few.
About the Author
Lisa Solomon is a studio artist that moonlights as a college professor and graphic designer. Profoundly interested in the idea of hybridization (sparked from her Happa heritage), Solomon's mixed-media works and installations revolve thematically around domesticity, craft, and triggers that may be construed as masculine and/or feminine. She is drawn to found objects tending to alter them conceptually so their meanings and original uses or intents are repurposed. She often fuses "wrong" things together--recontextualizing their original purposes, and incorporating materials that question the line between ART and CRAFT. She received her BA in art in 1995 from UC Berkeley and her MFA from Mills College in 2003. She has exhibited and works with galleries both nationally and internationally, is in numerous private and public collections, and is continually tweeking artworks in her backyard studio. She resides in Oakland, California with her husband, daughter, a three-legged cat, a cross-eyed cat, a deaf French bulldog, a pit-bull, and many, many spools of thread. She is the author of Knot Thread Stitch (Quarry Books, 2012). www.lisasolomon.com
Praise For Knot Thread Stitch: Exploring Creativity Through Embroidery and Mixed Media…
"Mixed-media artist Solomon uses embroidery to embellish her artwork with texture and depth. This collection of simple projects demonstrates how embroidered embellishment can add interest to everyday goods. After a clear, thorough introduction to the tools and supplies used in hand embroidery, the fun begins: Solomon presents a collection of home decor and accessory projects with a distinctively indie-craft aesthetic. A number of artists join her to present their takes on the projects, bringing their unique styles to the collection. Interest in embroidery continues to grow, and the variety of projects in Solomon's collection, as well as its trendy aesthetic, make this an appealing purchase."NANETTE DONOHUE, Champaign P.L., IL FIBER CRAFTS
Advertisement