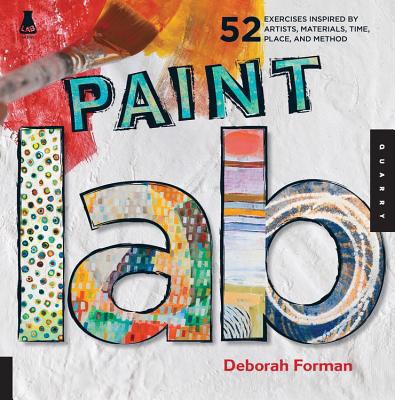 Paint Lab
52 Exercises inspired by Artists, Materials, Time, Place, and Method (Lab Series)
Paperback

* Individual store prices may vary.
Praise For Paint Lab: 52 Exercises inspired by Artists, Materials, Time, Place, and Method (Lab Series)…
"In this latest title, artist and art instructor Forman offers readers 52 exercises designed to open up their painterly thinking and introduce them to a broader range of materials and techniques. Readers can explore painting by following step-by-step exercises in chapters on time, place, unusual materials, and color. Each lab is based upon a finished piece by either a working contemporary artist or by a 20th-century master such as Frida Kahlo, Paul Klee, or Helen Frankenthaler. Throughout, Forman emphasizes the value of play in creative endeavors. VERDICT Beginners and more experienced artists alike will benefit from this guide." - Library Journal
Quarry Books, 9781592537822, 136pp.
Publication Date: September 1, 2013
About the Author
Deborah Forman is a practicing artist and a passionate teacher of art with twenty years of experience instructing students from ages two to eighty. She is currently an instructor in continuing education at the Rhode Island School of Design (RISD). Deborah specializes in teaching the fundamentals: drawing, two-dimensional design, color theory, beginning to advanced painting, and conceptual approach to painting and materials. In her own painting practice, Deborah works within the realm of geometric abstraction, with emphasis on the phenomena of color interaction. Deborah earned her bachelor of fine arts degree in 1992 from Rhode Island School of Design. She went on to earn a master of science in art education in 1996 from the Massachusetts College of Art and Design, a school that believes teaching is an art form, with an emphasis on process over product and the importance of play and risk taking for artistic growth. Deborah has a master of fine arts in painting from the Parsons School of Design, where the focus of the program was contemporary art and theory, graduating in 2001. Deborah has exhibited her paintings in Rhode Island as well as in various other venues throughout New England. She also provides a creative workshop series that can be used in a variety of settings. Visit her website at www.blueorangeworkshop.com. She is the author of Paint Lab (Quarry Books, 2013).