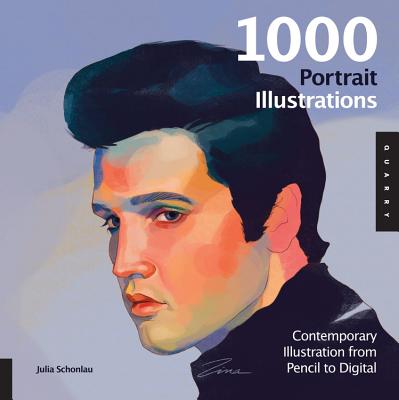 1,000 Portrait Illustrations: Contemporary Illustration from Pencil to Digital (Paperback)
Contemporary Illustration from Pencil to Digital
Quarry Books, 9781592538096, 320pp.
Publication Date: November 1, 2012
Description
In this beautiful addition to the 1,000 series, 1,000 Portrait Illustrations showcases the best work from renowned artists from across the globe. With detailed profiles, extensive interviews, and gorgeous imagery, this book is a feast of creativity.
Featured artists include:
- Randy Glass: http: //www.randyglassstudio.com
- David Fullarton: http: //www.davidfullarton.com
- Ward Schumaker: http: //www.warddraw.com
- Sam Wolfe: http: //www.samwolfeconnelly.com
- Daniel Zender: http: //www.danielzender.com
- Bryce Wymer: http: //www.brycewymer.com
- Daniel Krall: http: //www.danielkrall.com
- Sam Weber: http: //www.sampaints.com
- Daniel Fishel: http: //www.o-fishel.com
- Kyungduk Kim: http: //www.dukillustration.com
- Sharmila Banerjee: http: //www.sharmilabanerjee.de
- Jenny Morgan: http: //www.jennymorganart.com
- Kelly Thompson: http: //www.kellythompson.co.nz
- And many others
Explore a diverse range of artistic talent in portraiture and become truly inspired by this stunning collection
About the Author
Julia Schonlau studied Fine Art at the Chelsea College of Art & Design in London. After graduating she worked for August Publishing and Redstone Press. To continue her studies with a Master in Communication Design, she moved to Berlin (where she currently resides) and enrolled at Kunsthochschule Weissensee. Since 2006 she has published a yearly artist's pocket diary together with AnnaBuehler. Julia is also a recognised illustrator whose work has been showcased in books by Pictoplasma, Rojo, Laurence King and IDN. Visit her website at http: //www.jujus-delivery.com.
Advertisement