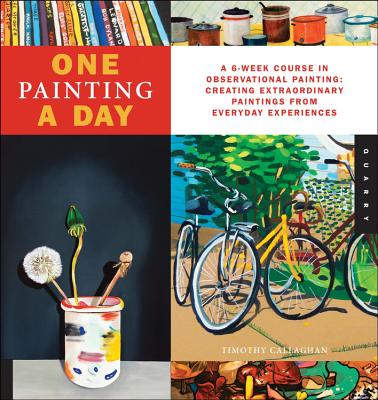 One Painting a Day (Paperback)
A 6-Week Course in Observational Painting--Creating Extraordinary Paintings from Everyday Experiences (One a Day)
Quarry Books, 9781592538300, 128pp.
Publication Date: July 1, 2013
* Individual store prices may vary.
Description
One Painting A Day offers you an inspiring six-week course exploring the timeless traditions of observational painting through daily experience and routine.
This motivational guide is broken up into three parts to focus on the three major traditions of observational painting: still life, landscape, and portraiture. Each of the 42 daily exercises launches a small, immediate, and responsive painting based on a theme drawn from your daily experience. You will find suggestions on technique, approach, and materials for each day, while the "weekly lessons" explore a format or a rhythm for creating content, inspiring you to make the ordinary extraordinary as you create from every day experience. This beautiful collection of contemporary paintings serves as a workbook of ideas for aspiring artists, art students, professional designers, and art lovers alike.
About the Author
Timothy Callaghan is a painter who lives and works in Cleveland, OH. He received an MFA from Kent State in 2005 and a BFA from The Cleveland Institute of Art in 1999. Presently, he is a visiting professor at Oberlin College and an adjunct faculty member at the Cleveland Institute of Art and Cuyahoga Community College. Callaghan has exhibited his work in Washington, D.C., Philadelphia, and New York City. The Cleveland Clinic and the Cleveland Art Association have collected his work, and he is represented by William Busta Gallery in Cleveland. Visit him online at http: //www.timothycallaghan.com and http: //timothycallaghan.tumblr.com.
Praise For One Painting a Day: A 6-Week Course in Observational Painting--Creating Extraordinary Paintings from Everyday Experiences (One a Day)…
"Absolutely delightful. Those two words are a perfectly fitting description of a readable, approachable and highly enticing new 'how-to' book about painting by Cleveland artist Timothy Callaghan." — Steven Litt, The Plain Dealer

"Painter Callaghan challenges readers to complete one painting a day for six weeks. Aspiring artists are encouraged to draw inspiration from the people, places, and objects they encounter every day. The 42 exercises (one per day) are meant to be done in a quick, spontaneous fashion and on a small scale. Chapters are divided among three sections—still life, landscape, and portraiture—and provide many fresh approaches along the way. Successful examples completed by the author and six other artists generously illustrate this guide. VERDICT This course-in-a-book can help the busy hobbyist painter build or re-establish the discipline crucial to any creative practice." — Library Journal