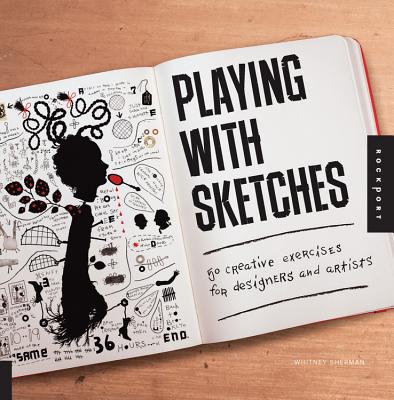 Playing with Sketches (Paperback)
50 Creative Exercises for Designers and Artists
Rockport Publishers, 9781592538614, 192pp.
Publication Date: December 1, 2013
* Individual store prices may vary.
Description
Drawing is the backbone of art and design; with all of the tantalizing wonders of the digital world, the best designers, illustrators and artists know that it's good to step back occasionally and hit the refresh button on your hand and mind. Playing with Sketches is a hands-on, fun approach to exploring drawing principles. Beginning with an introduction to the philosophy of learning through the process of play, this book brings you through a series of basic warm-up exercises that can be combined with later projects. Then you'll move quickly on to more challenging and engaging exercises, including word games, dimensional shapes, and inventive sketchbooks and letterforms, eventually creating a "toolkit" of ideas and skills developed through the process of play. This book features creative, adaptable ideas, and numerous examples of designers and artists responses to each exercise, giving you a peek into their way of thinking and seeing.


With over 25 contributors, from high-profile designers, illustrators and artists to talented graduate students, you see work that will walk you step-by-step through a process or inspire by example. The book provides meaningful outcomes for your practice, including building an image archive, being exposed to new ways to use media and tools, inspiring you to break the rules, to collaborate, and much more! 
About the Author
Award-winning illustrator Whitney Sherman was trained as a photographer, held positions as an advertising art director, publications designer, and VP/Creative Director before focusing on illustration as proprietor of Whitney Sherman Illustration. Sherman has taught both graphic design and illustration, and was undergraduate Chair of Illustration for ten years before becoming Director of the MFA in Illustration Practice program at the Maryland Institute College of Art (MICA) in Baltimore. In addition, she is Co-Director of Dolphin Press & Print @ MICA, and owner of Pbody Dsign which produces limited edition illustrated housewares. She is nationally represented by Gerald & Cullen Rapp, Inc., New York. www.whitneysherman.com/
Praise For Playing with Sketches: 50 Creative Exercises for Designers and Artists…
"Author Sherman calls PLAYING WITH SKETCHES "calisthenics for your hands and mind." With this book, she endeavors to expand readers' creativity through play, inviting them to step outside the known, disregard rigid rules they have internalized, and allow themselves to make mistakes. The exercises include back-to-basics and goal-oriented themes, and also more challenging concepts. Simple Lines, Collaborative Patterning, Five-Minute Drawings, Blind Drawing, and Sketch Share are just a few of the exercises offered. Challenge yourself to work through this book and you will really be exercising your creative muscles!" - Barbara Delaney, Cloth Paper Scissors Magazine