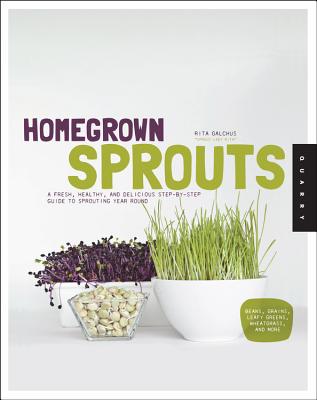 Homegrown Sprouts (Paperback)
A Fresh, Healthy, and Delicious Step-by-Step Guide to Sprouting Year Round
Quarry Books, 9781592538706, 160pp.
Publication Date: November 1, 2013
* Individual store prices may vary.
Description
Sprouts are the ultimate in local food--harvested no further away than your kitchen counter, they are fresh, delicious, and versatile. Homegrown Sprouts is the complete guide to growing your own sprouts. Choose the right sprouter for you, be it a jar, a bag, or a tray, and learn the techniques to use it. Grow a wide variety of sprouts, including wheatgrass, leafy greens, mung beans, and alfalfa. Enjoy them on their own, or discover a variety of serving suggestions from salads to soups to juices. There's even a chapter on sprouting for your pets. Whatever the season, Homegrown Sprouts will take you on a germinating journey that you won't soon forget. When you learn how easy it is to grow nutrition-packed sprouts in your own home, you'll want to use them in every dish you make!
About the Author
Rita Galchus, owner of the Sprout House and popularly known as "Sprout Lady Rita", lives with her husband and their son. In addition to her love of sprouting, she is an avid reader and also enjoys walking, beach vacations, and spending time with her family and friends.
or
Not Currently Available for Direct Purchase