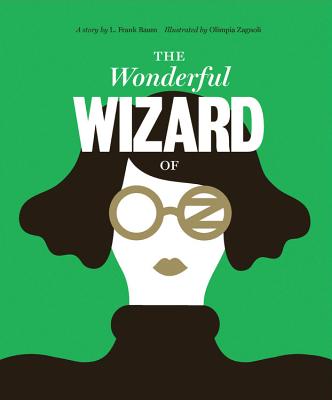 Classics Reimagined, The Wonderful Wizard of Oz (Hardcover)
Rockport Publishers, 9781592538997, 312pp.
Publication Date: September 15, 2014
Other Editions of This Title:
Hardcover (2/5/2013)
* Individual store prices may vary.
Description
An unabridged classic tale with dazzling modern illustration
The Classics Reimagined series is a library of stunning collector's editions of unabridged classic novels illustrated by contemporary artists from around the world. Each artist offers his or her own unique, visual interpretation of the most well-loved, widely read, and avidly collected literature from renowned authors. From Grimm's Fairy Tales to The Wonderful Wizard of Oz and from Edgar Allen Poe to Sir Arthur Conan Doyle, art lovers and book collectors alike will not be able to resist owning the whole collection.
Enjoy Frank L. Baum's The Wonderful Wizard of Oz as you've never seen it before! Olimpia Zagnoli's modern, illustrative interpretation of this classic tale follows Dorothy on her infamous journey to Oz. The quirky, colorful images breathe new life into this classic novel, making it a collectible for Oz lovers every where.
About the Author
L. Frank Baum (1856–1919) was a prolific American writer, who also attempted to adapt his writing to stage and screen, including turning the The Wonderful Wizard of Oz into a musical in 1902. Due to the success of the original book, he wrote an addional thirteen Oz books.
Olimpia Zagnoli is a young Italian artist, who often collaborates with The New York Times, The New Yorker, Marie Claire, Rolling Stone, Taschen and many others. She recently completed the cover design for the "American Illustration" book and she has done ad campaigns for Clinique, Panda and other major clients both in the U.S. and Europe. She lives in Milan in a house with kaleidoscopic floors.
Praise For Classics Reimagined, The Wonderful Wizard of Oz…
"As part of Rockport's Classics Reimagined series, this new edition of Oz - aptly saturated in emerald green - modernizes the story, while paying homage to the past. Zagnoli's vision permeates the book, adding moods and angles perhaps never seen within the pages before. She conveys a lot through simple shapes and repeated patterns; the sometimes sparse pages are only bolstered by their blank spaces. From the simplistic curl of the winged monkeys' tails to the golden hot air balloon, Zagnoli's illustrations are made up solely of black, white, green and gold - creating a powerful, contemporary visual story that perfectly matches the 114-year-old tale." - Katie Olsen, www.coolhunting.com
"L. Frank Baum's children's book, published in 1900, has already received a face-lift you might've heard of: it was adapted into the most-watched film of all time, after all. Now Quarto Books has ventured to reimagine the story once more, using a spare, geometric design that complements the dizzying story perfectly. A ripple of bright rings symbolizes the tornado that starts it all, and Dorothy and her crew move through a two-dimensional Oz. The flatness of the design matches the alienness and surreality of the fictional world." - Huffington Post
"I was instantly taken with Classics Reimagined: The Wonderful Wizard of Oz -- a gorgeous edition of the L. Frank Baum classic with imaginatively minimalist art by Italian illustrator Olimpia Zagnoli (whose initials couldn't befit the project more perfectly), the first in a new series by Rockport Publishers pairing some of today's most exciting illustrators and graphic artists with some of yesteryear's most beloved books.
What makes Zagnoli's take on Baum's story especially enchanting is the refreshing juxtaposition between garish extravagance with which Oz is traditionally portrayed and her restrained yet expressive imagery -- contained precision, bold geometric graphics, and repetitive patterns that somehow manage to exude the almost psychedelic sensibility of Baum's whimsical world." - Brain Pickings